According to Cradlepoint, bandwidth needs are on the rise across a number of industries
Cradlepoint released its latest iteration of its annual State of Wireless WAN Report, compiled by IDG, the results of which show rising industry interest in wireless Wide Area Networks, as well as "confidence and excitement for 5G," leading to the conclusion that, despite the challenged presented by the COVID-19 pandemic, the coming year will see increased adoption of next-generation networks.
Respondents for the report represented a wide variety of industries, including manufacturing, financial services, healthcare and construction, and according to Cradlepoint, it became clear that across all industries, bandwidth needs are on the rise.
In a press release, Cradlepoint's Vice President of Product and Solution Marketing Donna Johnson commented further on this point, saying, "Having a secure, flexible and reliable WAN edge is more critical to business success than ever. As organizations look to adapt to a new normal and get back to business, wireless WAN solutions uniquely enable network agility while enhancing security and scale."
Because traditional wired WANs are complex, slow to adapt, and applicable to only fixed locations, businesses are turning to wireless WAN technology because of its ability to more easily and flexibly providing much-needed connectivity.
Specific report findings around the need for bandwidth show that 57% respondents cited bandwidth as a reason for adopting broadband and 49% cited it as a reason for adopting LTE. In addition, as 5G is rolled out more widely, 60% see bandwidth as a reason for adopting 5G.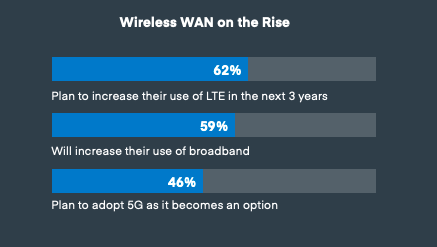 When it comes to how respondents are currently using wireless WAN for business operations, 53% said they connect in-vehicle networks via WAN, 77% connect fixed IoT locations such as kiosks and security cameras using WAN, while 40% are connecting locations, vehicles and IoT on their corporate WAN edge.
This last category, concluded the report, demonstrates the expansion of the network edge beyond fixed locations.
Nearly all those surveyed — 91% — are currently using or planning to adopt LTE and 5G for use in branches in the near future, with a number of use cases sited, including IoT connections, digital signage connectivity and as failover links.
The report also took a look at 5G from an interesting perspective: IT decision-maker confidence that 5G will deliver on its promises.
Respondents indicated that when it comes to speed, only 36% are very confident that 5G will offer an enhancements; however, slightly more — 46% — are confident it will. Additionally, 67% are either confident or very confident 5G will deliver business benefits within the next year, 82% believe 5G will deliver increased WAN speeds within the next year, and 66% think it will provide improved reliability.
In conclusion, Johnson referenced the ongoing pandemic, acknowledging that it has "forced businesses to be more innovative and creative than ever, adding that Wireless WAN has proven to be a critical enabler.
"With the emergence of 5G bringing faster speeds and smarter cellular networks, the ascension of Wireless WAN as critical infrastructure is inevitable," she stated.
The post Cradlepoint report explores confidence, excitement around wireless WAN enterprise adoption appeared first on RCR Wireless News.