Many 5G operators are quickly realizing that Integrated Access Backhauls (IABs) are an ideal solution to expand 5G coverage. This is even more important for operators such as Verizon and AT&T, who are primarily utilizing millimeter Wave (mmWave) bands for 5G. As I explained in my earlier articles, traditional techniques only allow half-duplex IAB operation, which severely limits its usability. The SeLf Interference Cancellation (SLIC) technique enables the full-duplex IAB operation and offers full capacity and efficiency. In essence, it just not IABs, but IABs with SLIC are the most efficient, and hassle-free way to expand 5G mmWave coverage. 
Side note: If you would like to learn more about IABs, and how to deploy hyperdense mmWave networks, please check out the other articles in the IABs article series.
What is self-interference, and why is it a challenge?
The traditional configuration for deploying IABs is half-duplex, where the donor and access (user) links timeshare the same spectrum, thus significantly reducing the efficiency. The full-duplex mode, where both the links are ON at the same time, is not possible as the links interfere with each other—the transmitter of one link feeding into the receiver of the other. This "self-interference" makes both the links unusable and the IAB dysfunctional. 
So, let's look at how to address this self-interference. As shown in the figure, IAB has two sets of antennas, one for the donor link, and another for the access link. The best option to reduce self-interference is to isolate both the antennas/links. Based on the years of work on the cousins of IABs—repeaters, and relays—we know that for the full-duplex mode to work, this isolation needs to be 110 – 120 dB.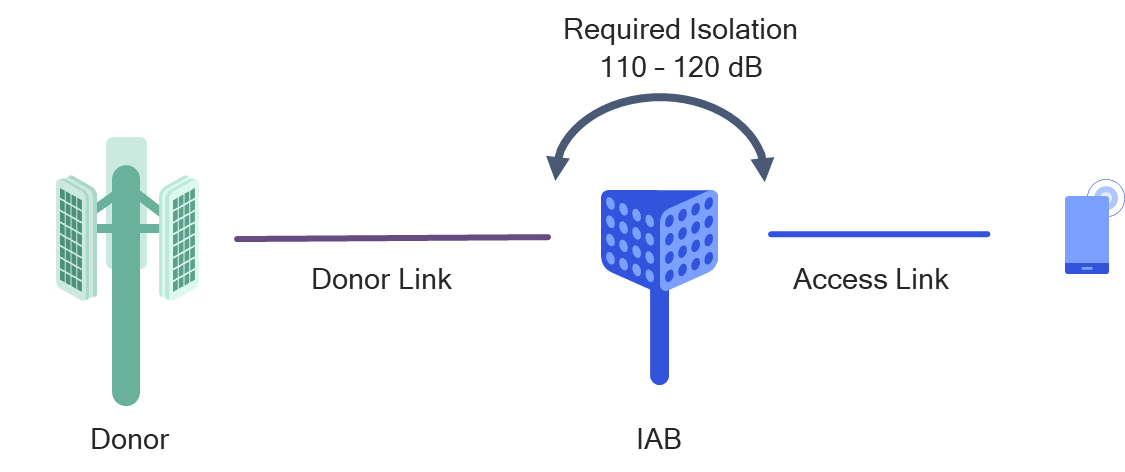 Locating the donor and access antennas far apart from each other or separating them with a solid obstruction could yield significant isolation. However, since we would like to keep the IAB unit small and compact, with integrated antennas, there is a limit to how much separation you could achieve this way. 
The mmWave bands have many advantages over sub-6GHz bands in achieving such isolation. Their antennas are small, so isolating them is relatively easy. Since they also have a smaller coverage footprint, the interference they spew into the other link is relatively smaller. That is why I think IABs are ideal for mmWave bands. If you would like to know more about this, check out the earlier articles.  
The lab and field testing done by a leading player Kumu networks indicates that for mmWave IABs, the isolation that can be achieved by intelligent antennas separation is as high as 70 dB. That means the remaining 40-50 dB has to come from some other means. That is where the SLIC comes into play. 
How does SLIC work?  
To explain interference cancellation in simple words, you create a signal that is directly opposite to the interfering signal and inject that into the receiver. This opposite signal negates the interference leaving behind only the desired signal. 
The interference cancellation can be implemented either in the analog domain or the digital one. Each is implemented at different sections of the IAB. Analog SLIC is typically done at the RF Front End (RFFE) subsystem, and the digital SLIC is implemented in or around the modem subsystem.
Side note: If you would like to know more technical details on self-interference cancellation, please check this  YouTube video.
Again, when it comes to mmWave IABs, because of their RF characteristics, almost all the needed additional 40-50 dB of isolation can be achieved only through digital SLIC. Here are the frequency response charts of a commercial-grade mmWave digital SLIC IP block developed by Kumu Networks. This response is for a 28 GHz, 400 MHz mmWave system, and as evident, it can reduce the interference, i.e. increase the isolation by 40-50 dB.
SLIC enables full-duplex IABs
Here is a chart that further illustrates the importance of SLIC in enabling full-duplex operation of IABs.  
t plots the IAB efficiency against the amount of isolation. The efficiency here is measured as the total IAB throughput when compared to the throughput of a regular site with a fiber backhaul.  As can be seen, IAB in full-duplex mode is more efficient than half-duplex, if the isolation is 90 dB or more. And with 120 dB of isolation, IAB can provide the same amount of capacity as that of a regular mmWave site. It is pretty clear that SLIC is a must to make IABs really useful for 5G. 
When will IABs with SLIC be available?
Well, there are two parts to that question. Let's look at the second part first. SLIC is not a new concept. In fact, it is available in the products being shipped today. For example, Kumu Network's LTE Relays that support SLIC are already deployed by many operators. And they already have developed the core IP for 5G mmW digital SLIC and it is currently being evaluated by many of its customers.  As mentioned before, the frequency chart showing the interference cancellation is from the same IP block. 
Now, regarding the first part, 3GPP Rel. 16, which introduced IABs was finalized only a few months ago in Jun 2020. It usually takes 9-12 months for the new standard to be supported in commercial products. Verizon and AT&T are already testing IABs and have publicly disclosed that they will start deploying them in their networks in 2021. 
Final thoughts
In a series of articles, we took a very close look at 5G IABs, especially for the mmWave deployments. The first article examined why hyper densification of mmWave sites is a must for 5G operators, the second article explained how IABs address the main challenge of cost-effective backhaul, and this article illustrates why SLIC is a basic need for highly efficient, full-duplex operation of IABs. 
5G mmWave IABs are a powerful combination of well-understood concept, proven technology, and an ideal spectrum band. No wonder the industry is really excited about their introduction. The finalization of 3GPP Rel. 16 has set the IAB commercialization in motion, and operators can't wait for them to be deployed in their networks. 
For more articles like this, and up-to-date analysis of the latest mobile and tech industry news, sign-up for our monthly newsletter at TantraAnalyst.com/Newsletter, or listen to our Tantra's Mantra podcast.
The post IAB with self-interference cancellation–no hassle way to expand 5G coverage (Analyst Angle) appeared first on RCR Wireless News.