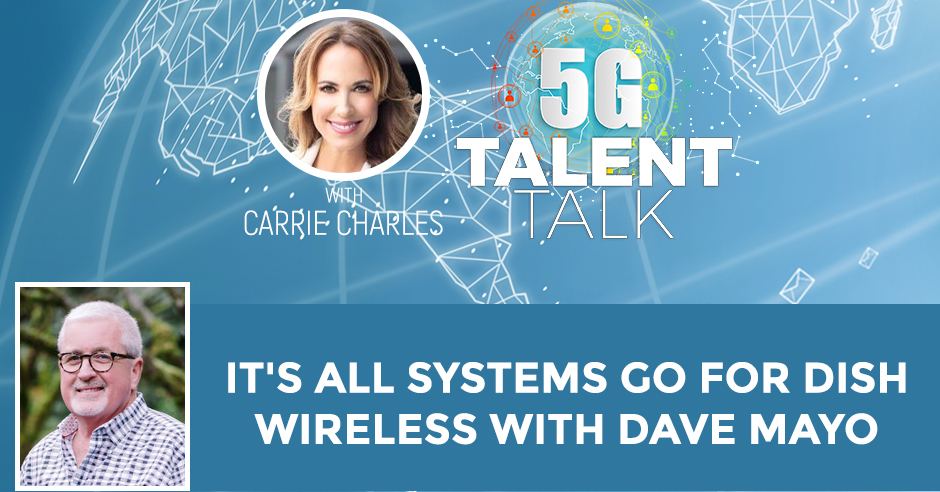 The challenges of building a virtualized, software-driven network from scratch are real. On today's podcast, Carrie Charles is joined by Dave Mayo, the Executive Vice President of Network Deployment at DISH Network. Dave talks about some of the challenges they're facing and how they plan on overcoming them. He also shares the secret sauce to building a network and improving the process of creating a smart, motivated team over time.
—
Listen to the podcast here:
Watch the podcast here:
It's All Systems Go For DISH Wireless With Dave Mayo
I have a very special guest with me, Dave Mayo. Dave is the Executive Vice President of Network Deployment at DISH Network. Dave, thank you for being on the show with me.
It's great to be here, Carrie. Thank you.
You have had a long successful career in telecom. Can you tell me about your journey and how you got to DISH?
Very few people know this, but I'm a finance person by trade. I spent about seven years in public accounting and then went to work for a couple of clients of mine. I wound up going to work at US West Investment Group in an exciting job in the Accounting Department and all those process-related functions, accounts payable and inventory. The real reason I was hired is I ended up putting MRP, Materials Requirements Planning, and to help us build cell sites because one of my clients back at Pricewaterhouse was a manufacturer. I was at US West for about three years and we got acquired by this company called AirTouch that became Verizon. I didn't want to move to Walnut Creek for the next job. I looked around and I ended up going to work for this little startup called Western Wireless.
I worked for a CTO. I was the budget guy in the network organization. That job a little over two decades grew around me. It was a lot of fun. Building networks was a blast. I'm reminded of that. My job is reminiscent of some of the fun that I had in the early days of Voice Stream. I ran out of steam. It wasn't a right role for me. A few years ago, I took a sabbatical and then I found my way to DISH. I was in the waning hours of my non-compete, I would reach out to Charlie and see if he needed some help because I had a sneaking suspicion he might. Six weeks later, I find myself here in Littleton, Colorado.
Building a network, you're having a blast again. Tell me about the DISH story and your vision.
The DISH story is fascinating. We were talking about this. Charlie started this business many years ago. He's been in the DBS but satellite business for many years. I've always watched Charlie from a far with a lot of admiration as he acquired Spectrum over the last decade. I always thought that he would ultimately sell it. I didn't think that he would be a network builder until the Sprint T-Mobile deal caused the obligation to occur to build a network. I became increasingly convinced as I talked to Charlie that he was on a mission to build a network, which in a while was business.
It's no secret that the challenges of building a virtualized software driven network from scratch are real. Let's talk about some of these challenges that you're going to face and how do you plan on overcoming them?
When I got here, there were three things that became apparent to me that I needed to do. I needed to build a team. I feel confident. It's been about five months and I've hired four regional VPs and four market leaders. I'm happy with the team that we built and that was great. A lot of experience in my direct report leadership team, we have over a century and a half of wireless experience, which will pay big dividends in terms of what we need to accomplish over the next few years. The second thing is getting the designs complete. We're pretty far along in that process, as it relates to the 70% obligation, about 230 million pops that need to be covered by the middle of 2023. Third is developing and building partner relationships. You might've seen the Crown Castle announcement. Watch for more. We've also built relationships with many transport providers that you'll see announcements on.
Let's talk about the skeptics. There's a buzz out there that can DISH build a profitable business competing against three operators with far greater resources. What do you have to say to the skeptics?
A couple of things, first there's a lot of skepticism that the voice for your business would materialize into a business. It's doing well. There's always room for innovation in this great country of ours. The thing that strikes me about what we're doing is we're building a network that's an unencumbered by the legacy. It's 5G only. We're not going to have to deal with 3G and 4G. We're building it in our open ran framework that gives us the ability to do what we want to do with the network, not with the Scandinavian Cartel wants us to do, which is powerful. It's going to give us the ability to do things that are different and differentiable from the legacy carriers.
Were you a little skeptical in the beginning? How did you feel bumping into this?
---
There's always room for innovation in this great country.
Click To Tweet
---
If I roll the clock back a couple of years, I was skeptical that Charlie would do this. As I've watched the moves over the course of the last 18 to 24 months, they've all been very deliberate. As I talked to Charlie, it became apparent that this was the real deal and he wanted to do it. I wouldn't have come here if we weren't going to build a network. I'll be out dolphin and ski, and you know that, Carrie.
Why would you work hard unless it was going to happen? Let's talk about the secret sauce to making this happen. That's people, you are going to have to hire hundreds of people to make this vision a reality. Would you say that this is your top priority?
It's one of my top priorities. I'll say it from the first week I was here, it was my top priority. As I built the team, it's a decreased priority for me personally. There's still a lot of hiring that we need to do. We want to hire smart, motivated people. We've got a great process that helps us identify people that are both smart, motivated and fit into our culture well. That's what we're trying to do with the process. Over the course of the last few months, we've improved the process and we continue to improve the process over time.
I have a personal experience with the hiring process because we are blessed to be the National Staffing Partner for DISH Wireless and making this all happen. I'm sitting in the office three doors down from you. We can't sit together because of COVID, but I've been here for a couple of months. Incredibly exciting opportunity for us and yes, this is happening. Dave, there has been some hiring challenges though, over the course of the last few months in a year, what has caused those challenges in your opinion, and how are things different now moving into the future?
There are a couple of things. The disbelief that we were going to do this was a bit of a challenge. If I go back for a roll the clock back and it's even the pivots that the business had made. If I roll the clock back, close to a year, the team was working on building a nationwide narrowband IoT network, which is a completely different build strategy and a different animal than what we're setting out to do. I'll say some fits and starts that occurred as a consequence of the ramp up and then ramp down when it became apparent that we were going to get some forbearance from the DOJ, as it relates to the time to build out our licenses. There was clearly a bit of a fit and start, but frustrated some people externally and I completely understand that. I'll say that we're on a clear and deliberate mission to build a nationwide 5G network, make no mistake.
There's buzz around DISH now. What is it like to be a DISH Wireless team member or a leader at this time?
I was thinking about that a little bit and reflecting back it's a time that tremendous opportunity. There's so much that needs to be done. There's ambiguity that the people that will succeed and I reflect back on Voice Stream days. The people that succeeded were those that handled the ambiguity well and were able to get things done without a lot of guard rails. Those are the people that we're looking for to help us build this network. It's exciting. I'm proud of the team we're building because it's a first-rate team all the way around.
The team is making history.
That's part of the reason I didn't retire is this was something I couldn't not do. It's too big a thing to be a part of. I would have been fun. I would have proved my handicap. I would have skied a lot, but this is much more fun.
I'm having a great time. DISH has one of the most inspiring and motivating cultures that I have ever seen. I've been here at the headquarters for a couple of months now. I can tell you firsthand that there this spirit in the air. Everyone has such passion and such excitement. Everyone's working toward this common mission and it truly feels like anything's possible. It's going to happen. That's how everyone feels here.
In uncertain terms, it's going to happen.
I wonder that, but after I got here, and I'm experiencing the way that people are giving and the mindset, it is happening. Right outside my office is this mural of this big mountain. At the top, it says Adventure. I feel like I could stay here forever. What, in your opinion, makes this DISH culture special?
---
If you look for people who have curiosity and an adventuresome spirit, you're going to make a good hire.
Click To Tweet
---
Charlie has a lot to do with it. Charlie is fairly misunderstood individual. He's created the values. We look for people who have curiosity that are proud of what they do. If they have an adventuresome spirit, hence the mural of the mountain and want to win, it's easy. If you find those things in a candidate, you're going to make a good hire. That's the underpinning culture that we're trying to achieve here at DISH. It makes sense to me. It's reminiscent of what I experienced in the early days of Voice Stream. Although it's a little better articulated than it was in the early days, but as I reflect back as to what we were trying to do, we were trying to climb huge mountains, not a lot of time and this is not any different. I'd argued this is accelerated.
People now, Dave, want more than a job or more than a career. They want something that matters. They want to make a difference and whatever they're doing and whatever piece that they're contributing, they want to know that they're going to make a difference. They're going to do something that's never been done. That's what people are craving right now especially in these uncertain times. DISH is the perfect home for these types of people, for people who want to win, who wanted adventure, who want that curiosity and pride in their work. It's a phenomenal culture. DISH also has a strong commitment to diversity and inclusion that I've seen. There are many collective employee resource groups where every person at DISH can have a community, can be included and have connection. How are you building diversity on your team?
Charlie's perspective is if you hire for CPAW, which is Curiosity, Pride, Adventure and Winning, you'll create diversity in and of itself. I also say that we've taken some steps to ensure that we hire a diverse team, both in visible presence as well as thought, which is the most important thing to me. My direct report team is extraordinary diverse. I'm proud of that. I appreciate that because they all have different perspectives. They all have enough difference in their backgrounds, their gender and their nationality that I appreciate what all that brings and also their experiences, which makes us growing as a team.
Dave, it produces diversity of thought, and diversity breeds innovation. You are an innovative company to say the least. Let's talk about growth and development because I know that people when they're looking for a new career, a new role, the first thing they ask is, "Where do I see myself here? What options do I have for growth and development?" Let's talk a little bit about those opportunities and leadership at DISH Wireless.
This might be one of the best places to be from an opportunity set perspective because it's a young business. When you enter a young business, it creates all growth opportunities that will exist for many years. I'd say people have to be flexible. If they're flexible in terms of location, there's so much that needs to be done. There's opportunity for those people that get in on the ground floor and grow their careers with DISH.
What would you say to someone who is considering an opportunity with DISH or they've heard the buzz, they've heard the excitement, they're thinking about joining the team, what would you say to them?
Come on down. It's a great place to be. It's normally better when we start building that work and start adding customers. It's a fun place to be. That it's not now, but it's going to be even more fun when we get points on the board. We're planting a lot of seeds, plowing dirt, planting seeds and watering the seeds, and they're going to grow. Keep your eye on the website, Careers.DISH.com/wireless.aspx because there's jobs that are constantly posted on the website. We're trying to build the field team, radio-frequency engineers, site development people, site acquisition specialists. As we move through time, we'll be looking for transport engineers and transport coordinators. We're also trying to build the operations team here in Littleton, Colorado. That's going to entail people that have not based experiences, people that have system engineering experiences, transport experience, who are smart and want to do great things. Keep your eye on the job board because there's new positions out there almost every week.
There are many opportunities in Littleton. I've never experienced Colorado before especially Littleton. I have been here for a couple of months. I am in love, Dave. I've already told my fiancé we are going to spend at least 2, 3 months here a year. My home is in Florida in Tampa, but I am in love with this place. How do you feel about it here?
I've lived in Seattle all my adult life. I forgot that there was a star up in the sky that glow and it's out almost every day here. It's phenomenal. In Seattle, you don't see the sun often. I enjoyed the weather. Coming in almost every morning that pops down and it's great. The weather is awesome and people are nice too. It's a terrific place.
Dave, it has been a pleasure. I could talk to you for hours and hours. I want to thank you for coming on the show.
It's my pleasure. It's nice to do it. Thank you.
Important Links:
About Dave Mayo
Executive Vice President – Network Deployment at DISH Network
Love the show? Subscribe, rate, review, and share!
Join the 5G Talent Talk Community today:
The post It's All Systems Go for DISH Wireless with Dave Mayo appeared first on RCR Wireless News.