It is bliss, as an engineer, to witness a whopping 2Gpbs speed on a live commercial network, using an off the shelf device. And that was my experience a few weeks ago, using the new Lenovo Flex 5G on Verizon's live mmWave network in San Diego. It is even more amusing considering that I had tested 9.6 Kbps (yes, Kilo bites per second)) speeds on 2G networks only two decades ago, and 10s of Mbps only a few years ago.
The Flex 5G is the world's first 5G PC and it's powered by the Qualcomm Snapdragon 8cx 5G compute platform, using the Snapdragon X55 5G Modem-RF system. It represents what ideal productivity 5G PC should be—Ultra high-speed mmWave and Sub-6GHz 5G connectivity, the famed long battery life of Always Connected PCs (ACPCs), robust performance, and lightweight fanless design—all of which are enabled by the Snapdragon processor. 
It is a perfect device for a user like me—a professional, who is always on the move, who needs top-notch connectivity, light, and high-performing laptop, without the hassle of constantly looking for Wi-Fi hotspots and power outlets.
Immediately after buying the Flex 5G, I couldn't stop myself from testing and tweeting my initial thoughts. I used it extensively as my daily driver and travel companion for more than a month, and I came out very impressed.
Side note: If you would like to know more about ACPCs, including reviews of the Microsoft Surface Pro X and the Samsung Galaxy Book S, check out my other articles in this series.
Solid and highly functional build
Built in Lenovo's popular Yoga style (in fact, this laptop is called the 'Lenovo Yoga 5G' outside the U.S.), the Flex 5G's aluminum and magnesium body looks sleek and stylish. At 2.9lbs., it is slightly heavier than other ACPCs I have used (Surface Pro X and Galaxy Book S), but you really don't feel that much of a difference when carrying it around as it is still very light and portable. I especially liked its rubbery back and sides which offer a very satisfying firm grip when holding it, and stability when placed on uneven surfaces. This came very handy during my recent RV trip with the family. The Flex 5G would sit firmly, no matter where I placed it—on the seat, on the table, or anywhere else—even when driving on bumpy roads.
Blazing fast 5G connectivity
The Flex 5G's claim to fame is its 2 Gbps 5G mmWave speed. Unlike many peak speed claims, you can actually get that speed when standing close to the base station! But generally, when you move away from the base station and when the network load increases, speeds will move to hundreds of Mbps, though still notably better than 4G and better than most home networks. I did extensive testing on Verizon's 5G UWB (mmWave) live network in San Diego and was blown away by the speed.
When I tested, Verizon had two sites in San Diego, but they seem to have added two more recently. The coverage is limited to a couple of blocks around those sites. Most of my testing was near the University Heights site. I could get speeds in excess of 1 Gbps more than a block away, as long as there was line of sight (LoS). I would get decent speeds even without LoS, but would quickly drop to 4G LTE when moved behind buildings or major obstructions. But thanks to the Flex 5G's dual connectivity, the handoffs in and out of 5G coverage were seamless. I have included screen captures of some of the test results. Verizon has good 4G coverage, offering high speeds in the area, which was a big plus.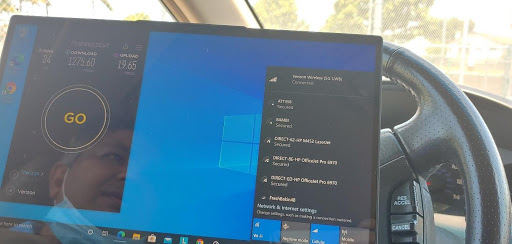 I did some speed test comparison between the Flex 5G and Samsung Galaxy S20, which also utilizes the Snapdragon X55 5G Modem-RF system. Generally, the speeds on the Flex 5G were slightly higher, and coverage little bit better than S20. I would attribute that to the laptop having better antennas (probably with higher gain), better spacing, and fewer near-end obstructions such as hand and other body parts.
During the testing, I discovered that Ookla, Netflix Fast, and other speed test sites will not give full speed when checked on browsers (Edge, Chrome, and Firefox). The speeds topped at 600 – 700 Mbps. But Windows 10 apps showed the full gigabit speeds. This confused me a bit. When checked, Ookla could not give any specific reason for such behavior and suggested to always use the app for accurate results. This indicates that browsers are not yet optimized to utilize such high speeds, and that might create user experience challenges, if not addressed soon.
Days-long battery life
The Flex 5G, just like the other ACPCs I have reviewed, lives up to its promise of long battery life. It sports a 4-cell 60Wh battery, slightly bigger than comparable Yoga laptops. This is made possible by the Qualcomm Snapdragon 8cx 5G compute platform, which is thermally efficient so devices utilizing the solution don't need a fan or any other specialized cooling, so there is extra space and weight margin. This also helps the Flex 5G remain lighter than other comparable models.
Instead of testing Lenovo's claimed 26 hours of video playback time, I tested the laptop for my typical productivity use. This included multiple email tabs, lots of browser tabs, Microsoft 365, Zoom and other conference call apps, YouTube, audio/podcast recording/editing, and others. I got more than two days of battery life from a single charge while doing these things. The laptop was connected primarily through Wi-Fi with occasional cellular use. The battery lasted even longer during my limited travels as the usage was lower, but it was always using a cellular connection. I wish I had done more testing during travel, but Covid-19 didn't allow it. Since I often travel to most of the major cities and areas Verizon and other operators are deploying 5G, I could have fully utilized the benefits of 5G connectivity. 
Performance tuned for productivity
The Flex 5G is a perfect machine for productivity. I found its processing power to be more than adequate for all my usage (mentioned above). Even with all these applications running, it never got hot. I am not a gamer, nor do I use any high-intensity graphics applications, so I cannot speak to application compatibility or the performance for those needs. Also, it is worth noting that such thin, lightweight laptops are not targeted for such users anyway.
One revelation was how accustomed I have gotten to the absence of fan noise during my more than 8 months of using Snapdragon-powered ACPCs. A couple of weeks ago, when I had to use a buddy's laptop, its fan noise was so distracting and drove me crazy. Once you experience the pure silence of these ACPCs, it's hard to go back to traditional devices with loud, heavy fans.
The Flex 5G comes with Windows 10 Pro and one year of free Microsoft 365 Personal. It has 2×2 11AC with MU-MIMO Wi-Fi (aka WiFi5) which has excellent performance. I was especially impressed with the quality of the on-board microphone. I was moderating a 5G panel at the recently held IWCE Virtual event, and my headset broke at the last minute, so I had to use the laptop mic, and I was really impressed by how good it sounded.
Some misses and room for improvement
Despite the excellent overall experience, there are some misses too. The 256 GB SSD is rather small for a premium productivity laptop. It is even worse considering that there are no upgrade options: the SSD is not field-replaceable (soldered to the board), and there is no micro SD slot. For its thickness and weight, Lenovo could have provided a full-sized USB-A port, in addition to, or instead of one of the two USB-C ports. Also, it currently only supports Verizon 5G connectivity in the United States (unlocked version works only in 4G mode with other operators).
Verizon's extremely limited 5G coverage leaves a lot to be desired. mmWave needs dense deployment of sites, as I had explained in my earlier article, and I hope they do so soon. They will also soon enable the Dynamic Spectrum Sharing (DSS) feature, which allows 5G to use the existing 4G spectrum, which will tremendously help to rapidly expand 5G coverage. But with limited 4G spectrum, gigabit speeds will not be possible. Snapdragon X55 inherently supports DSS. Verizon also needs to improve its customer support system for ACPCs. I had some issues activating the device and the frontline reps had no clue where to redirect me. It took a few tries and a couple of hours to get to the right person and get my service going.
The Lenovo Flex 5G is available for $1399 on the Verizon website (but shows $1699 on the Lenovo webpage for some reason), which is anywhere from $200-$300 higher than comparable thin, lightweight premium productivity laptops. Considering that this is first of its kind, and you are futureproofing your investment, it might be worthwhile for many mobile professionals like me. A lot also depends on how quickly the 5G coverage improves, and how soon we will start traveling and moving around again like before.
In closing
The Lenovo Flex 5G lives up to its promise of the world's first 5G PC and shows what a 5G PC should be. It delivers on all the characteristics of a Snapdragon-powered ACPC – a sleek fanless design, lightweight build, multi-day battery life, crested with ultra-high-speed mmWave 5G connectivity. The device's 5G usability is currently somewhat limited by Verizon's coverage. However, they are working hard to add more mmWave sites and bring DSS, which should substantially expand coverage. The Flex 5G currently delivers a great computing experience now, and will only be enhanced as 5G coverage grows.
To read more reviews like this as well as to get an up-to-date analysis of the latest mobile and tech industry news, sign-up for our monthly newsletter at TantraAnalyst.com/Newsletter, or listen to our Tantra's Mantra podcast.
The post Lenovo Flex 5G–What a premium productivity 5G PC should be (Analyst Angle) appeared first on RCR Wireless News.