The Snapdragon 480 supports millimeter-wave and sub-6 5G
Qualcomm has kicked off the new year by announcing the Snapdragon 480, its first 5G chipset designed for affordable handsets that fall somewhere in the $200 price range.
Lower-priced phones with 5G capability haven't been all the rage yet in the U.S., but in other countries, like China and India, interest has been high, resulting in Qualcomm facing intense global competition in this area from companies like Taiwan's MediaTek, which has catered well to those markets so far.
Not only will the 480 chipset ensure that Qualcomm can now go head-to-head with MediaTek when it comes to budget phones, but unlike its competition, Qualcomm's latest chipset supports millimeter-wave (mmWave), in addition to sub-6 GHz 5G. MediaTek has yet to build a chipset with mmWave support.
More specifically, the X51 modem in the 480 is the same one featured in the Snapdragon 690 and supports up to 200 megahertz of mmWave and 100 megahertz of sub-6 GHz 5G spectrum, resulting in faster speeds than experienced on 4G, but not quite as fast as you might get with a high-end 5G handset.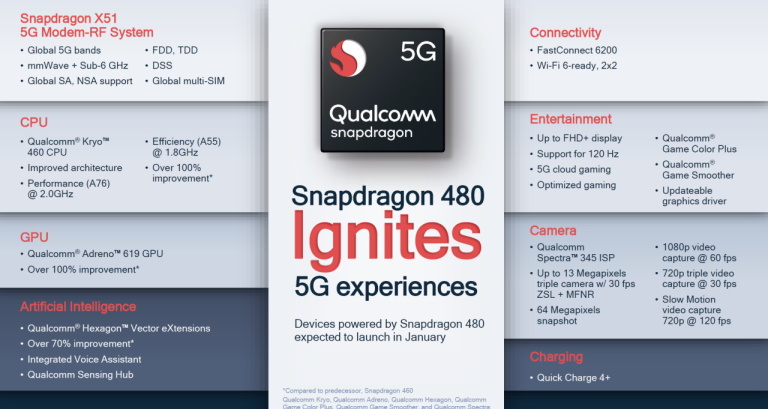 The 480 also features new core designs and an 8nm process, and the company claimed users will experience double the CPU and GPU performance of the previous Snapdragon 460, as well as a 70% improvement for AI tasks.
In addition, it's the first 4-series chipset to support 120fps FHD+ panels, and the first to offer 64-megapixel still images, as well as a triple ISP for triple camera integration.
Phones sporting the Snapdragon 480 are expected to arrive sometime in the first quarter of this year, with Vivo, Oppo, Xiaomi, Motorola and HMD's Nokia among some of the major companies predicted to utilize the chipset in its budget phones.
The post Qualcomm's Snapdragon 480 chipset brings 5G to low-end phones appeared first on RCR Wireless News.