Signals Research Group (SRG) has been actively involved in tracking the advancement of 5G NR since its inception in September 2015 at a 3GPP workshop, held in Phoenix, Arizona. At the time, no one knew for certain what 5G NR would look like, what compelling technical features would comprise it, how it would perform and evolve, not to mention when it would be commercially deployed – originally, the target date for commercial services was 2020 to support the Summer Olympics in Japan. In fact, it wasn't until six months after the first 5G workshop that 3GPP coined the term NR (New Radio), and without the 5G prefix since it was felt that only ITU could apply the 5G moniker to the burgeoning standard. I secretly wanted 5G PDQ (Pretty Darn Quick), but my suggestion fell on deaf ears.
Ironically, when 3GPP held its first 5G workshop, it wasn't even certain that it would include millimeter wave (mmWave) frequencies in the first set of specifications (Release 15). I use the term "ironic" since Verizon was the first operator in the world, along with SK Telecom, to launch commercial 5G NR services and it did so with its 28 GHz spectrum (a.k.a. mmWave).
We recently published a whitepaper on behalf of Qualcomm Technologies which looks at recent advancements in 5G NR operating in mmWave spectrum. Some of the findings stem from testing that we did for our Signals Ahead research publication while other findings stem from testing that Emil Olbrich and I did on behalf of this engagement. I encourage you to download and read the entire paper or view the video that I posted to LinkedIn (https://tinyurl.com/y3csfgce). However, as a quick appetizer, here are a few tidbits from the study, which you can download here (https://signalsresearch.com/issue/all-things-5g-nr-mmwave).
Massive capacity and faster downlink speeds. The 5G NR network and smartphones can now support up to 800 MHz of aggregate channel bandwidth (8×100 MHz) – double what was supported with the initial launches. The doubling of the channel bandwidth equates to a near doubling in user data speeds and/or total capacity – the latter is useful in high traffic areas where mmWave sites are typically located. Additionally, concurrent use of 5G NR and LTE leads to even higher data speeds, with higher data speeds in the future when networks assign multiple LTE radio channels to the smartphones alongside their 5G NR brethren.
Figure 1 Throughput for Three Smartphones Operating in Parallel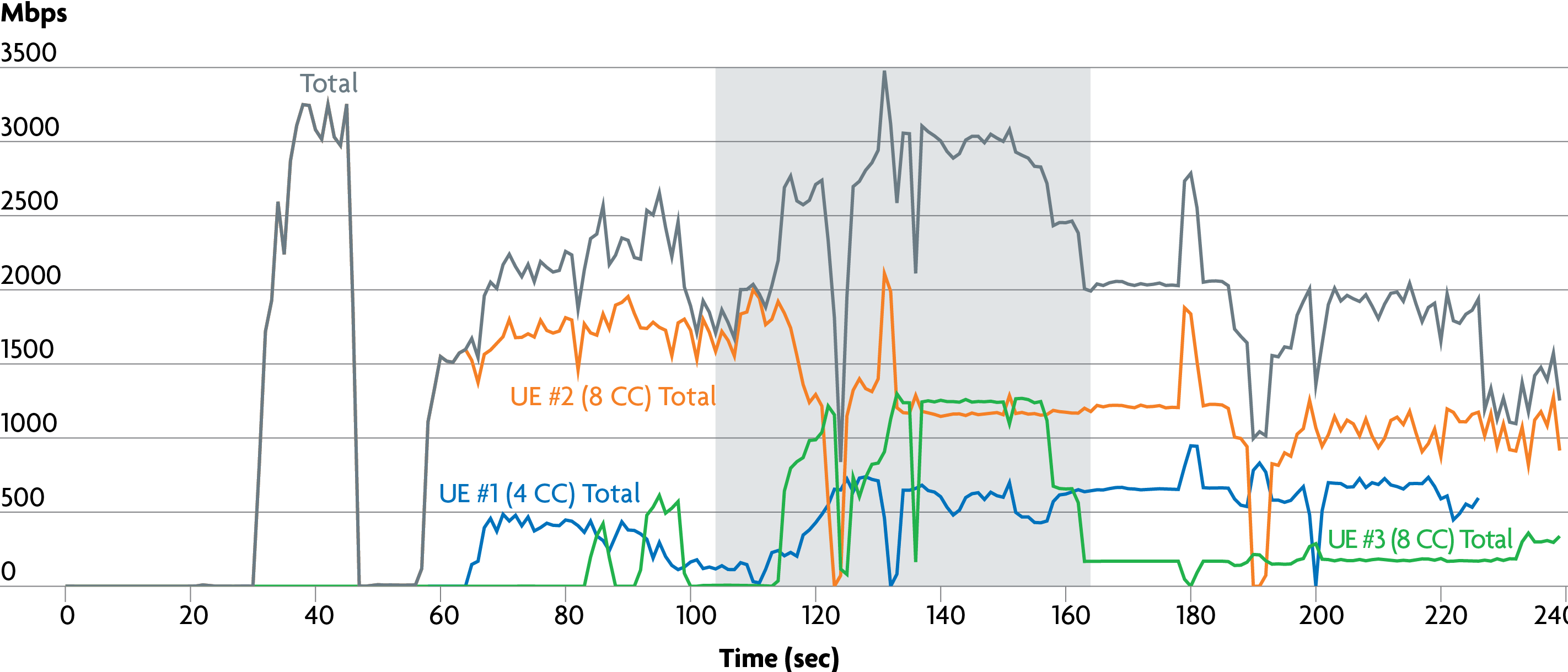 Source: Signals Research Group
The adjacent figure shows results from one test involving three smartphones downloading in parallel from the same 5G NR mmWave cell site. Two smartphones supported 800 MHz (8CC) and one smartphone only supported 400 MHz (4CC). The figure shows the obvious benefits associated with a smartphone supporting a wider aggregate channel bandwidth as well as the increase in total throughput for the sector. The advantage is most evident starting at 160 seconds when one of the smartphones (UE #3) reverted to a single 100 MHz channel, compared with the other two smartphones which supported 4CC (UE #1) and 8CC (UE #2), respectively.
Faster uplink data speeds. Like the downlink, 5G NR mmWave now supports wider channel bandwidth in the uplink direction – specifically 2×100 MHz radio channels versus a single 100 MHz channel that it previously supported. This feature, along with concurrent contributions from LTE (PDCP split bearer combining) results in uplink data speeds that can easily exceed 100 Mbps. For the FWA use case, this means the uplink data speeds are arguably faster than possible with virtually all fixed broadband service plans.
New Use Cases and applications. Besides the typical eMBB (enhanced mobile broadband) use case, 5G NR mmWave is enabling new use cases and applications.
Fixed Wireless Access. With new high-power CPEs that also have better receive sensitivity than traditional 5G NR smartphones it is possible to achieve Gigabit-per-second data speeds at locations where you would never expect the closest 5G NR mmWave radio would be able to provide coverage. It is impossible to extrapolate a typical 5G NR experience with a smartphone to what we observed in our tests, meaning you must see it to believe it. In addition to data connections at distances up to 5.1 km, we tested at multiple spots where the distant 5G NR radio was clearly blocked by buildings, trees, and other ground clutter, even when the CPE was facing off-angle from the serving cell site. There is a powerful story for the technical merits of 5G NR mmWave FWA that operators are just beginning to tap into.
Figure 2 Cell Site in Wisconsin Supporting 3G, 4G and 5G NR mmWave
4K Video. We tested 4K multi-screen capabilities whereby we streamed four 4K videos to a single device. It worked great on 5G NR mmWave but was disappointing, at best, on LTE with frequent buffering and poorer video quality (MOS).
Enterprise. 5G NR mmWave is also being deployed in enterprises, and based on our test results, provides coverage in unanticipated areas, including in closed conference rooms and stairwells, not to mention behind the radios and down hallways with non-line-of-site conditions to the serving 5G NR radio.
Figure 3 Achieving 2.2 Gbps in an Enclosed Conference Room
Source: Signals Research Group
Good robustness. In our outdoor testing with a smartphone, we identified numerous locations where multiple 5G NR radios (up to 4 radios) provided usable signals to the same location. These signals included 180° reflections off glass windows more than one block away, straight-away signals at distances over two city blocks, and signals from 5G NR radios on perpendicular streets with near/non-line-of-site conditions.
5G NR mmWave is unlike anything the wireless industry has experienced in the past. The potential performance gains aren't evolutionary, they're revolutionary. Along with these performance gains and the new use cases they enable, 5G NR mmWave introduces a new paradigm in how networks are deployed and where broadband wireless coverage exists. This new paradigm requires a new way of thinking when it comes to mmWave frequencies versus the traditional cellular frequencies of yesteryear. mmWave will never achieve coverage parity with legacy networks, but thankfully it was never envisioned in this way. Instead, 5G NR mmWave is carving out its own market opportunities with massive capacity to satisfy high traffic areas and demanding use cases, as well as improved coverage and robustness to extend these capabilities above and beyond expectations.
You can learn more about SRG and download the full whitepaper from our website (https://signalsresearch.com/issue/all-things-5g-nr-mmwave/)
Going back to Verizon's first foray with millimeter wave in 2018 with the 5GTF set of specifications, SRG has been conducting performance benchmark studies of all things 5G NR on a global basis. Thanks to logistical support from our test and measurement partners, including Accuver Americas, Keysight, PCTEL, Rohde & Schwarz, Sanjole, and Spirent Communications, we've peeled back the proverbial onion on 5G NR to understand how it performs and how its performance has evolved over the last 18+ months. We look forward to continuing these endeavors in the coming year as operators deploy new 5G NR features and functionality.
The post The 5G NR mmWave X factor (Analyst Angle) appeared first on RCR Wireless News.