The world of enterprise networking is evolving, and CSPs must evolve with it
Enterprises are looking to bring their digitalization plans to fruition by adopting cloud, IoT and edge technologies, and 5G has the potential to accelerate these plans and provide the quality of service enterprise are seeking. The evolution to 5G technology has created a crossroads for telecom operators to either develop a business plan that simply and incrementally improves connectivity, or to do something disruptive and create a fundamentally different business model — one that places them at the helm.
According to Angus Ward, CEO of Bearing Point // Beyond, a Saas-based BSS and digital platform solution provider, put the choice a different way: "Are they going to be a plug-in for connectivity services into somebody else's ecosystem, or do they want to retain the customers and create a total solution with an ecosystem of partners that solves customer problems?"
He went on to explain that most enterprise decision makers are not particularly preoccupied with which technology to implement but are instead more concerned about digitally transforming their business.
"The problem is that CSPs [connectivity service providers]just want to sell connectivity and standardized 'connectivity plus infrastructure' products, while businesses want to buy more sophisticated, complete solutions that better fit their needs and require the integration of multiple technologies from multiple players," he said, adding that 95% of enterprises and SMBs would rather invest in solutions that are co-created through an ecosystem of partners than 5G technologies.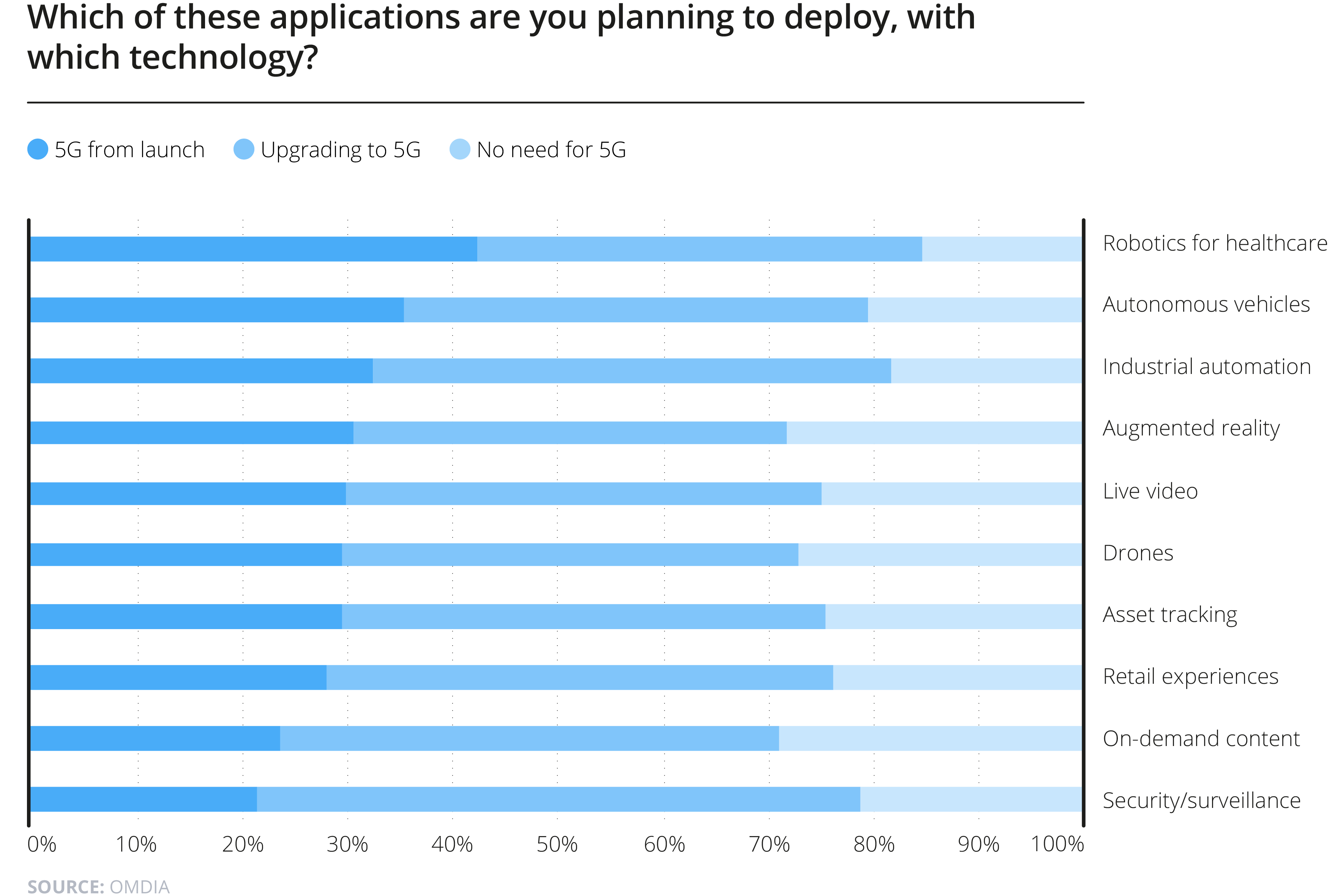 In fact, a report conducted by Omdia in conjunction with Bearing Point // Beyond revealed that some of the primary connectivity concerns of enterprise decision makers include applications related to physical security physical security and monitoring, asset tracking, and industry specific machinery, which are not typically areas the CSPs specialize in. Therefore, some are under the impression that CSPs will only realize value from 5G if they can identify, partner, codevelop, implement and run a proposition with application-specific and industry specific specialists.
Stephane Daeuble, Nokia's head of enterprise solutions marketing, appears to agree with Ward's assessment, stating, "This is not an easy one for [carriers]. The enterprise rarely asks about the capacity of your core network. What they think about is they've got a problem and they need to fix it. They're coming with problems and they're looking for solutions."
Daeuble continued: "It is a solution approach; it's not even selling a network. You're selling an end-to-end solution. Operators can't leave too much on the table for the other guys."
As these new entrants eagerly tackle the market, it's putting more pressure on mobile operators to solidify their value when it comes to supplying private networks. Initially, spectrum was their ticket, but as Daeuble pointed out, the conversation around spectrum availability is changing.
"One of the issues was around spectrum. It's improving now, but in the early days, we had to spend months finding a spectrum we could use for that specific country, location and customer," he continued. "The regulator was very often the operator who would release the spectrum. They were a very important part of the puzzle and they're starting to realize it's a growth area for them when compared to the flat market of the consumer."
To remain relevant as the interest in private 5G networks grows and the availability of spectrum widens, carriers are establishing partnerships with cloud and other technology companies to offer joint services, like in the case of recent trials conducted by Verizon with Corning and Samsung to test new 5G mmWave in-building solutions.
But, while some operators have recognized this opportunity, Daeuble cautioned that, as a whole, operators "ought to catch up" because if an enterprise decides to deploy a private network, they don't necessarily have to involve a carrier.
For more information on private networks and how they compare to Wi-Fi and public networks, check out RCR Wireless News' upcoming webinar on the topic.
The post The changing role of CSPs in enterprise networking: 'Selling a solution, not a network' appeared first on RCR Wireless News.