Driving interoperability, ecosystem development, and future innovation
Today, we take it for granted that our wireless devices and applications just work out of the box —smartphones can connect, make calls, and receive and send data anywhere in the world; laptops can seamlessly connect to any Wi-Fi access point and Bluetooth peripheral; and the video recorded on one device can be played back perfectly on any other device. It's not magic. It's thanks to global technology standards that not only power a wide range of systems and devices but also bring many benefits to the broader technology ecosystem.
As the head of the standards group at Qualcomm Technologies, I have been involved with developing standardized technologies for about 30 years. Today, my team participates in about 200 global standards and industry organizations, which are responsible for standardizing a wide range of technologies adopted in electronic systems and devices. In this blog post, I will explain the importance of technology standards and highlight a few focus areas of ours, namely cellular, Wi-Fi, Bluetooth, and video coding.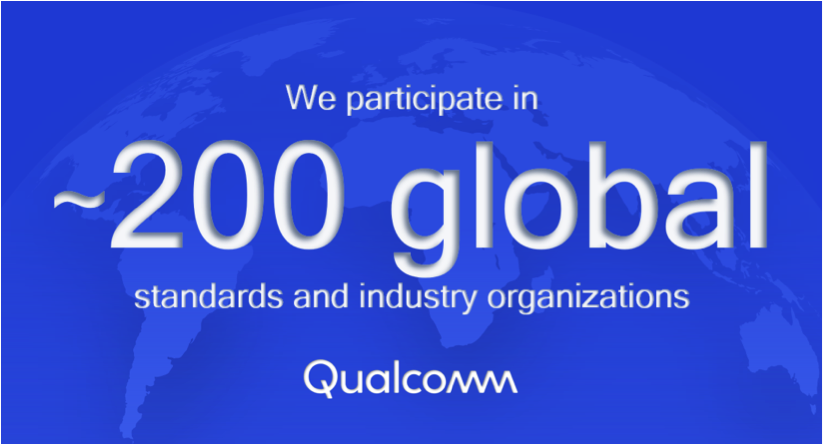 The Value of Standards
Global technology standards play a critical role in the world of technology. For the wireless communications industry, they are the foundation of a transparent competitive ecosystem open for everyone and provide a continuous technology evolution roadmap. Standardization is a key step in bringing new interoperable technologies to the mass commercial market, creating significant value across the entire technology ecosystem. Let me explain why.
Technology standards:
Ensure system interoperability while enabling product differentiation.
Create new markets and expand addressable markets of existing products and technology.
Allow for better cost efficiency through economies of scale and multi-vendor sourcing.
Reduce market risk, especially in areas that require large investments (e.g., cellular infrastructure, silicon chip designs).
Improve reliability and become a vehicle to address regulatory requirements.
Continue to enhance the technology by motivating participation, collaboration and competition from a diverse set of companies, creating the best solution possible.
But why would any company strive to be the leader in standards? Well, here at Qualcomm Technologies, we see three distinct advantages for standards leadership:
First, it allows us to deliver better products while reducing time-to-market. For instance, communications standards are very complex in nature; thus, leadership in designing technology standards goes hand in hand with leadership in product development.
Second, it gives us the opportunity to create and license valuable intellectual property (IP). When inventions are contributed to standards, they become accessible to everyone in the ecosystem. A solid IP framework can make sure that inventors are adequately incentivized to invest in R&D that generates valuable inventions.
Third, it enables us to drive the technology forward with new functionalities and efficiencies, fostering healthy growth for the overall market that benefits the broader ecosystem.
Now that we've established that standards bring clear benefits for consumers, system vendors, and inventors, let me provide a quick overview to a few standards that are important to the wireless industry and highlight some of our key contributions.
Cellular — 3GPP (3rd Generation Partnership Project)
Cellular communication has revolutionized the way we live, work, and play, and Qualcomm has been at the forefront of pioneering standardized cutting-edge technologies since the development of CDMA for 2G. Today, 3GPP is the standards body that drives most of the evolution of cellular technology., 3GPP has an open collaborative process, which allows any company to participate. Participating companies submit their technological proposals which are then discussed, adopted, rejected, and modified by 3GPP participants through a consensus-based process. Through this competitive process, involving some of the best minds in the communications industry, and which to the casual observer must seem chaotic, comes out the best technical solutions which form the base technology for the trillion-dollar cellular industry. Qualcomm Technologies has a long history of success in submitting our technology inventions into 3GPP and its predecessors. We have made significant contributions to the major standard releases of 2G, 3G, 4G, and 5G.
For example, Qualcomm Technologies submitted its CDMA technology in the early 1990s which became the basis for one of the major 2G standards, and the basis for all 3G standards. Enhancements in that technology led to many innovations, including very fundamental techniques that permitted high rate data communications and the well-known carrier aggregation that further increased the data rate. We were also a key leader in the development of the basic concepts around OFDM in 4G. Later, we led the ecosystem to standardize LTE in unlicensed spectrum (LTE-U & LAA), which underpinned the global success of Gigabit LTE and the subsequent standardization of 5G NR in unlicensed spectrum (i.e., NR-U). We also led in the development device-to-device communications, which led to ProSe (Proximity Services) and later to direct communications between automobiles (C-V2X). With 5G, we led the acceleration of NSA mode in 5G NR Release 15, as well as contributed key technology inventions to both Release 15 and 16, which established a solid 5G technology foundation and started the 5G expansion into new industries.
To learn more about how 3GPP works and the best way to gauge cellular standards leadership (spoiler alert: we firmly believe in quality over quantity), please check out this blog series by one of my team members, Lorenzo Casaccia.
Wi-Fi — IEEE 802.11 Working Groups and WFA (Wi-Fi Alliance)
Another wireless technology that we're all familiar with is Wi-Fi, which provides local broadband access for a wide range of devices. The standardization and promotion of Wi-Fi technologies are driven by two industry organizations: IEEE 802.11 Working Group and the Wi-Fi Alliance. The IEEE 802.11 Working Group is responsible for developing and maintaining the global MAC/PHY standards, while the Wi-Fi Alliance manages interoperability test programs, conducts regulatory advocacy, and drives marketing activities.
There are now six major commercial standard releases of Wi-Fi, and today, we are seeing the global proliferation of Wi-Fi 6, based upon the IEEE 802.11ax standard. The IEEE 802.11 Working Group is actively working on 802.11be, which will be the next generation, called Wi-Fi 7. Qualcomm Technologies employees hold key leadership positions in 802.11 (802.11 Vice Chair and 802.11be Chair) and the Wi-Fi Alliance (Board of Directors). Over the years, we have made significant contributions to all major updates of Wi-Fi, which are summarized in the figure below.
Bluetooth — Bluetooth SIG (Special Interest Group)
Bluetooth is another complementary wireless technology that supports a broad set of personal area networking use cases, including audio streaming, data transfer, and location services. The Bluetooth SIG is the industry organization that is responsible for standardizing Bluetooth technologies, qualifying products, and promoting its brand. Currently, there are ~15 members that are currently actively contributing to the Core Working Group to evolve Bluetooth specifications. Qualcomm Technologies has taken a recognized leadership role since 2000. Groups that Qualcomm Technologies employees currently chair include the BTI committee and the very important Core and Generic Audio working groups. Qualcomm Technologies employees have received multiple awards over the years recognizing their (and Qualcomm Technologies') contributions to Bluetooth. Over the multiple generations and releases of Bluetooth standards, we have pioneered defining some of the technologies that are highlighted below.
Video — MPEG (Motion Picture Expert Group) and VCEG (Video Coding Experts Group)
Video technology revolutionized how we create and consume media. It is a stark contrast to look at the low-resolution black-and-white TV video of the past versus today's high-resolution high-dynamic-range video streaming technologies. Video coding technology advancements continue the march of enhanced video quality using fewer bits, which has led to broad video adoption across a wide range of interoperable devices and services. In fact, it's expected that 82% of Internet traffic will be video by 2022 (source: Cisco Annual Internet Report, 2018–2023).
Global video standards are developed by MPEG, and its partner organization VCEG. Similar to other standard organizations, expert working groups focus on technology discussions, make decisions on what to include in the standards, and provide tools to ensure product interoperability. The regular cadence of technical advancement in video codec standards has resulted in a massive reduction in file size — roughly a factor of two for every generation of video codec. Qualcomm Technologies has been a major contributor to multiple video codec standards, beginning with the HEVC (High Efficiency Video Coding), known as H.265 that was completed in 2013, through the two most recent video standards, VVC (Versatile Video Coding), which reached FDIS (Final Draft International Standard) status in July 2020 and EVC (Essential Video Coding) , which reached the same status in April 2020. Qualcomm Technologies has a rich heritage of leading video innovation, providing key video standards contributions across video technologies that are highlighted in the image below.
For example, with the recent completion of VVC, Qualcomm Technologies is proud to have been the initial or a main contributor to video coding tools that provide 80% of VVC's rate reduction as compared to HEVC. In addition, our innovations contribute to VVC tools that reduce compute complexity for more efficient processing. As users demand more immersive experiences, this next-gen video technology will continue to evolve to support emerging data-intensive video services and applications.
Our contributions to standards drive the future for industries
To foster future innovations, we have been and continue to be at the forefront of driving a broad set of technology standards and ensuring their success in the global marketplace. Our contributions can be distilled into three key areas:
Technology leadership: we are driving cutting-edge R&D and taking bold bets to address fundamental challenges and deliver industry-changing breakthroughs.
Standards leadership: we are taking leadership positions in standards and industry organizations to set guiding directions and do what's right to move the industry forward.
Ecosystem support: we are supporting ecosystem development through higher membership levels and close collaboration with 80+ leading universities on future research.
Learn more…
For more detailed information on the essential role of standardization, join my webinar on 9/29 and download this presentation. Also, be sure to sign up for our wireless technologies newsletter to stay up to date as we move the forward with tomorrow's technology innovations.
The post The essential role of technology standards appeared first on RCR Wireless News.