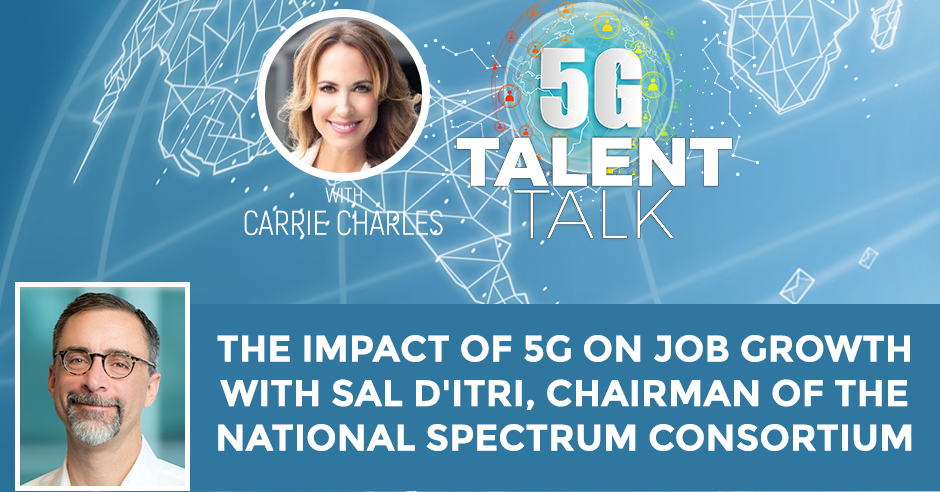 The demands of the human race will only continue to grow as time passes, with technology continuously keeping up and evolving. And with 5G starting to rise in popularity, a surge in job growth is expected thanks to this innovation. Carrie Charles talks with Sal D'Itri, the Chairman of the National Spectrum Consortium and Vice President and General Manager of Federal for Federated Wireless. Together, they talk about how employment can be impacted by 5G in the future, how it will reach domestic homes, and what to expect when integrating it to our everyday lives. Sal also discusses what policymakers need to consider to maximize the power of 5G and how it changed due to the pandemic.
—
Watch the episode here:
Listen to the podcast here:
The Impact Of 5G On Job Growth With Sal D'Itri, Chairman Of The National Spectrum Consortium
I am especially excited to get into this conversation. I'd like to introduce to you our guest, Sal D'Itri. He is the Chairman of the National Spectrum Consortium, and he's the Vice President and General Manager of Federal for Federated Wireless. Sal, thank you for joining me.
Thanks for having me. Time to talk about the Consortium. I'm excited to be with you.
What is the National Spectrum Consortium and what is the organization's role in the development of 5G?
The Consortium is a group of about 400 industry leaders in 5G and wireless spectrum. We comprise academia, the Silicon Valley startup, traditional commercial companies and traditional DOD contractors who have all come together to create dual use technologies and US innovation in 5G and wireless spectrum. Wireless spectrum fuels 5G and the entire Wi-Fi, all the ecosystem. It's the oil of our generation. When you put those two things together, there's a tremendous opportunity for innovation, technology transfer, and for the US to be a leader in the emerging 5G world.
What is your role as Chairman? What are you responsible for?
As Chairman, I'm representative of the members. Also, I engage with the Department of Defense along with our executive committee in strategic discussions about how industry can rapidly come together with the government to provide 5G innovation. A lot of that is through working groups, through collaborative nature, the thing you see in Silicon Valley a lot where folks will get together and brainstorm. We're bringing that capability through the Department of Defense around 5G and spectrum.
---
Wireless spectrum fuels 5G, the entire Wi-Fi, and all of the ecosystem. It's the oil of our generation.
Click To Tweet
---
What are the qualifications to be a member?
The key thing for folks considering membership and for leaders, we hold a $1.2 billion contract with the Department of Defense for 5G innovation. We've seen numerous RFPs and opportunities to expand, grow and deploy 5G at sites around the United States. If you're a startup, if you're an academic who has a great idea, or you're a large company who wants to move into the 5G space, the National Spectrum Consortium is an excellent opportunity for those companies. Consortium as a whole is collaborative. By our nature, we collaborate with each other. We work together in this community to solve problems. If someone wants to join, there are a few hurdles there. The membership fee is almost nothing. It's low cost.
There is a bit of things you need to be able to support to work with the Department of Defense, but through a capability called the Other Transaction Agreement, which I want to highlight. Sometimes when commercial companies hear about working with the Federal Government and they're like, "All those different ways of doing business, I don't want to move my business into that. It's too hard." This Other Transaction Agreement was set up by Congress to provide commercial terms and commercial sensibilities for companies to come in and work with the Federal Government under terms and conditions, and in a work style that they're familiar with, as what I would call, commercial Silicon Valley-like behavior. It's a huge departure from the traditional legacy DoD contracting world.
Let's talk about your other job with Federated Wireless. I was lucky to have Iyad Tarazi here and he is incredible. Tell me about your role at Federated Wireless.
Federated is a member of the National Spectrum Consortium. Federated is one of the pioneers in shared spectrum. That's critical because if you look at spectrum in the United States, there aren't many easy spectrum bands to move people out of or reallocate. It's quite expensive and it takes a long time. Sharing spectrum between the public sector and the commercial industry's needs, it's critical to our growth in 5G. That's what Federated does at the most basic level. Our technology allows incumbents to share spectrum with commercial parties, whether that's private enterprise, banks, oil companies, smart warehouse, smart cities, to share spectrum with the military and to improve our use of the spectrum and thereby our growth in 5G.
That's fundamentally what the company is founded on. We have some FCC approved technology that permit that to happen. If you're a private enterprise and you're saying, "I'd love to deploy my own network," the first thing you're going to want is, "Can I get access to spectrum on my own? How much control of that network can I have?" Using this shared spectrum model, you can get access to that for long periods of time, almost permanently if you want to, and build a network and start building the applications that you want to have to serve the enterprise.
Innovative, disruptive. I love it. Those are the words that come to my mind when I hear a Federated Wireless. I was reading this report. It's a new report that was released by the Consortium, The Third Wave: How 5G Will Drive Job Growth Over the Next Fifteen Years. I spent almost two hours reading through this report. It was incredible. I was impressed. I want to dive into the report a bit. The first thing is that the report talks about the three waves of wireless-driven job growth. Can you touch on those three waves a bit and why the third wave is instrumental?
It gets to the point of it. 5G is a transformational technology for our economy. When I commissioned Dr. Mandel to create this report, it was because I have a firm belief that if we don't create jobs in 5G, and we do not harness these applications, we'll be buying other people's technology yet again. With the same challenges and concerns that we have for security and supply chain and all of these things that we have, it's critical that we create jobs in 5G at this transformational point in the wireless industry. If you look at the first wave going back to '97, you remember the bag phone, few people were impacted by wireless communication at that point. The second wave is the smartphone and the app economy. Consumer-focused and real transformational effort to work in the home, the idea of video and things of that nature, about 25% of the market was impacted by that in terms of jobs.
If you look at 5G, it's in the third wave. What we see is the emergence of IoT, smart warehouse, smart ports where we have a new worker in many levels who is someone who's going out installing these IoT sensors who's servicing that through cognitive, but physical as well. A departure from the pure app economy. At the same time in the third wave, we see the transformation as 5G is moving away from the traditional telco model into much more of a cloud-based technology. We see the emergence of a new wireless worker, one who's a bit cloud, a bit radio and a bit security even, and blending of that as we're looking to hire and train and staff. Especially if you're thinking about it as a private enterprise and deploying your own 5G network. That's the third wave. It's the emergence of this cognitive physical worker who's out there with the IoT sensors, but also the emergence of this new cloud capability coming into 5G and changing the traditional workforce.
You mentioned the cognitive jobs versus cognitive physical skill jobs. This was fascinating and important for people to know as they're looking for their own future and what's my place is going to be in this 5G world. Cognitive jobs, some examples are software developers, security specialist, and privacy specialist. Cognitive physical skill jobs, field sensor technician, construction drone operator, robotics maintenance, and tele-help installer. It's fascinating that we've been able to see in such detail what types of roles that we are going to need for this 5G future. The other thing I thought was fascinating is that I read 4.6 million jobs will be created by 2034. This is different than what I've been reading from the past reports. This is updated information.
If you look at the app economy, it roughly generated about 2.5 million jobs, you see almost doubling that. That's because of the emergence of the enterprise focus in 5G. In 5G, if you're a business leader in some vertical, you now have the ability to build and deploy your own wireless 5G network and use AI, big data, sensor networks, IoT for your own applications built from the ground up. That is fundamentally going to change the way wireless enterprises and leaders engage with wireless. The growth in the commercial industry will continue, but there's this growth in the enterprise, which is going to have that doubling effect of jobs here in the United States.
---
The shared spectrum between the public sector and the commercial industry's needs is critical to our growth in 5G.
Click To Tweet
---
Every single person will be affected with this, correct?
As we all upgrade our smartphones and things of that nature, there are 5G devices on the market now, but it's the emergence of these 5G IoT devices, sensors, vehicle to vehicle communication and cloud that are going to drive the growth in 5G.
What industries will be affected by this? Any surprises or anything that is uncommon?
Certainly, 5G will bring about a big change in logistics modernization, tracking, sensors, things of that nature. I also see a parallel growth, as mentioned in the report, in training, for example. Use of augmented and virtual reality is an example, which is a fairly limited application, 5g and all of its resilience and reliability it's been allowing people to do more of that AR/VR training from remote locations. That's going to have a tremendous productivity gain for the US workforce. Additionally, there are applications in telemedicine and telehealth where the reliability of 5G, its ability to slice networks and provide capability as needed to locations will improve the use of that robotics and things in healthcare and maintenance, certainly is we're all working from home more, greater capabilities to work from home as well.
What about locations? In the report, I was surprised to see where the jobs would be located. It's not in the areas where I would think they would be located.
That's what's hopeful in my mind, growing up in the Rust Belt of the steel industry of Pittsburgh in the '70s or '80s like Lincoln, Nebraska, or Wilkes-Barre, Pennsylvania, other places that are traditionally agricultural, industrial areas. I love seeing the fact that there's an opportunity for a lot of these physical technologies to grow and be deployed out in these new areas, rebirthing in many of the cases. That has tremendous opportunity for the US economy and the way the entire country and our growth as a nation will allow us to grow together. That is an excellent outcome of this report.
We're already feeling it in staffing with Broadstaff because the demand for workers is in different areas than 2019 or even the year before. It's aligned with what you're saying. Has COVID slowed or accelerated the rollout of 5G? I know I was reading in the report that 106,000 jobs were created in 2020 during the pandemic and everything that we had going on. What will be the long-term effects of COVID on 5G?
You can look at it from two angles, from an impact perspective in terms of slowing a bit. Certainly, 5G is a 3GPP standard, and it's the standards developing. It's dragging out a bit further because folks aren't able to attend those meetings. They're trying to resolve these issues more remotely. We're seeing the standard and some of its rollout impacted as COVID prolongs. That's one thing on the negative side. On the positive side, since we're all working from home more, there's greater and greater demand for bandwidth to the home, as well as to the phone and other areas. That's going to continue to fuel 5. US carriers have rolled out 5G. They have plans to upgrade that as the standard comes about and looking to deploying more millimeter wave technology and other things along the line. I see two things. One, the standards, it's body itself slowed down a bit because of COVID, but there's a lot of uptake in that because of folks working from home and technology growing as well.
We would be remiss if we didn't talk about training because we need to fill 4.6 million jobs, and training is going to be key. How is this going to happen? I've interviewed quite a few people about this subject and it's critical. How are we going to do this?
It starts with defining what the 5G worker is. For leaders in enterprise, looking at 5G as a cloud-based technology, a lot of the applications in AI and other things that ride on top of it, mobile edge computing, will define the type of worker that you need and how you train them. That person needs a bit of everything. It might be more a bit of skills in many areas, as opposed to, "I'm going to hire a solid RF engineer to our Wi-Fi person to run my network at my enterprise anymore." What I like with the Consortium is undertaking.
National Spectrum Consortium is starting to work with state labs, state and local folks to pull them into some of the things that we're doing, but also to see if there are ways that we can work together to extend what DoD's major investment in 5G in the United States. It can filter into some of the neighborhoods, communities, community colleges, universities, where they're almost getting on-the-job training and hands-on understanding of 5G. We're leveraging what those academics are doing in 5G, and there's some cross-pollination there. There's an excellent opportunity to do that, and to grow beyond what DoD's doing at bases around the United States to communities around those bases and then cities, community colleges, and local universities.
What do policy makers need to do to harness the full potential of 5G in your opinion?
---
5G will bring about a big change in logistics modernization and tracking sensors.
Click To Tweet
---
First off, we're off to an excellent start in that. We see the emergence particularly in the mid-band spectrum of shared spectrum technologies. There have been some auctions that are going on that are freeing up more and more mid-band spectrum. We need to continue to do that but do that in a way that allows the Department of Defense to perform its mission, to secure our national borders, to have our war fighters, our neighbors and friends who serve our nation, be able to train and fight when they have to go overseas.
We need to continue to work down that path to make spectrum available, but to do so in a way that protects DoD interests and our national interests. As well, I would encourage folks to come to the Consortium. We're over 400 companies. Also consider this dual use opportunity to engage DoD, as they're looking to deploy at multiple sites around the United States to see what you can learn, how can you engage in this process. There's a quid pro quo, an opportunity to share some technology the industry has and learn from what DoD is doing in the benefit of US innovation.
I was reading in the report that there's no long-term spectrum plan. Why is when needed, and what are the implications of not having a plan? Do you see that there's going to be a plan?
We have made good inroads in the mid-band spectrum, for sure. They will continue to look at spectrum. We're going to be pushed into the higher frequency bands, areas that we have traditionally not worked in. We're looking at millimeter wave, which is rolling out. There are folks looking at the terahertz bands, phenomenal amount of capacity, a lot of propagation challenges. We need to continue working with industry on applications and use cases for that technology. At the same time, coming back to the DoD and others in industry to develop some of the capabilities that will allow us to leverage some of these high spectrum bands in the future.
Take out your crystal ball and let's look into the future. What do you see for spectrum? What's in the next 1 to 3 years?
As auctions continue and sharing continues to grow, we're going to have to continue to look at technologies that make spectrum available quickly. More than the traditional 10-year cycle of auction and vacate. There aren't a lot of easy bands left for that. I see continued research by the Department of Defense and spectrum sharing and new approaches. I see continued collaboration between the government and the private sector to make spectrum available on a shared basis to find ways to better provide access to both parties.
Perhaps even a bi-directional sharing opportunity where a public sector gets some access to commercial spectrum at times when they need it when there's life critical situations and vice versa. There are a lot of levers there still to pull. With spectrum sharing, we're off to a tremendous framework to make that happen. Let's not forget, the United States is the innovator in spectrum sharing in the wireless industry. If we look around at 5G, a lot of the technology, it's coming from the US but it's also coming from overseas. We've innovated in this area of sharing and we should continue to capitalize on that innovation for the wireless future.
If we want to find out more about the National Spectrum Consortium, where would we go?
You can visit our website at NationalSpectrumConsortium.org. There are ways there to join or learn more about our mission and what we're doing.
Federated Wireless, what's the website there?
FederatedWireless.com for those who are looking for information and opportunities in spectrum sharing and private 5G networks.
Jobs even. You're hiring.
Through DoD's efforts, there are numerous job postings around the United States in 5G for sure. It's helping the economy.
Sal, thank you for being my guest. It's been a pleasure.
Thanks, Carrie.
You take care.
Important Links:
About Sal D'Itri
Sal D'Itri is the Vice President and General Manager of Federal for Federated Wireless as well as the Chairman of the National Spectrum Consortium.
He has over 25 years of sales, marketing and product management experience and over 10 years of experience in shared spectrum initiatives. Previously, he served as Director Sales and Marketing for The Shared Spectrum Company and as Director, Product Marketing for Wireless Matrix (now CalAmp).
He is also a prior appointee to the IT Advisory Commission for Arlington County. He also served as Chief Marketing Officer for the Wireless Innovation Forum. Sal has a B.S. from Robert Morris College and a M.A in Telecommunications from George Mason University.
Love the show? Subscribe, rate, review, and share!
Join the 5G Talent Talk Community today:
The post The Impact Of 5G On Job Growth With Sal D'Itri, Chairman Of The National Spectrum Consortium appeared first on RCR Wireless News.