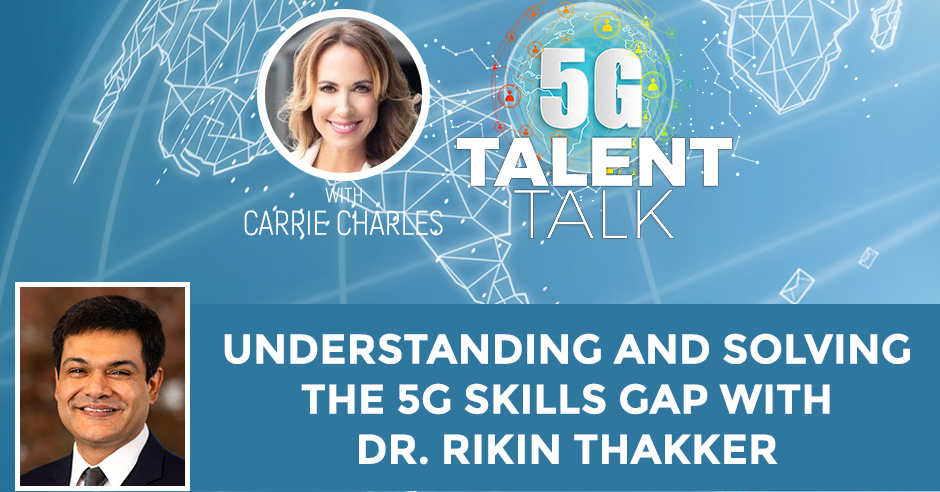 A fast and efficient wireless system is truly an excellent tool to use in today's digital world as it opens a lot of opportunities. With everything almost done digital, having a proper connection is a must. However, without a well-targeted plan and strategy, bridging the 5G skills gap would be impossible. Dr. Rikin Thakker saw this opening as an opportunity to help others through the smart use of technology. Carrie Charles interviews the Chief Technology Officer of the Wireless Infrastructure Association to explain how they are using wireless technology to provide utmost convenience to everyone. Dr. Thakker also discusses how WIA can be taken advantage of by students, allowing them to hone their skills and secure the most optimal apprenticeship positions.
—
Watch the episode here:
Listen to the podcast here:
The Impact Of 5G On Job Growth Understanding And Solving The 5G Skills Gap With Dr. Rikin Thakker
I'm very excited to have with me a special guest, Dr. Rikin Thakker. He is the Chief Technology Officer of the Wireless Infrastructure Association. Dr. Thakker, thank you for joining me.
Thanks for having me, Carrie. It's my pleasure.
Rikin, I hear that you have a new role. Congratulations with WIA. Can you tell us a little bit more about your role and your responsibilities?
I'm honored to join this amazing team at WIA. I always admire WIA and respected Jonathan Adelstein and Tim House. You already had Jonathan on your show, the leadership in shaping WIA's vision and the position it has in the industry right now. As part of this new role, I'll be leading the activities related to 5G and other emerging technologies. I'll be advising WIA members mainly on 5G strategies, including densifications, spectrum on location, broadband deployment, etc.
I plan to continue analyzing the impact of future use cases of 5G and provide recommendations on broadband infrastructure deployment strategies. One of the key tasks will be also helping WIA member companies and their CTO offices to identify future technology trends and shape their product, services, real estate portfolio to make them ready for 5G and beyond. Lastly, along with all of this, I'm very excited to apply my skillset, knowledge and background in expanding WIA's training initiatives and workforce development efforts through registered apprenticeship. You'll know more about that.
Tell us a little more about WIA, the Wireless Infrastructure Association. Let's start there for those people who don't know what it is.
First of all, I would say that even though I'm joining WIA in this new role, I've been associated with WIA through various initiatives. Apart from our general policy and advocacy group, from my point of view, before even joining WIA with this new role, I was involved with something called ITC that is WIA's Innovation and Technology Council. That is the forum for forecasting the future of the wireless industry. Participants explore the latest developments in wireless industry, ranging from edge computing to CBRS, to talent needs for 5G. Tracy Ford of WIA manages this very nicely.
Right around there, I also led the skills gap and training working group within ITC for nearly three years. We produced two amazing white papers addressing the skills gap for our industry and how to best address the growing demands for a skilled workforce. Both these papers are very well received by the industry, academia and government agencies. I led the CBRS working group under ITC as well. We released a very nice paper on all things CBRS. We just got published earlier in 2020. That's the ITC side of it.
I've been engaged with the WIA's Education Center. That's our training side of it. Since its inception, a few years now and through TEC, we call it TEC. The website, I'm going to mention, people should visit it and that's TEC Online. You can find this on WIA's website as well. Through TEC, WIA is addressing the fundamental problem associated with our industry. That is the lack of standardized training. We recognize this a few years ago. Now we have created an amazing portfolio of industry-recognized courses. Please explore that, tell all your readers and I'm pretty sure there are a lot of them. I'm one of them. I admire what you have done through this show.
Finally, before joining WIA, during my tenure with MMTC, where I work as VP of Spectrum Policy and Telecom, in general, I got the opportunity to work with a very talented group, which manages WIA's apprenticeship efforts. That is through TIRAP, which is the Telecommunications Industry Registered Apprenticeship Program. That is the only registered apprenticeship program we have for our industry. Having worked on many of these initiatives at WIA prior to joining in this new role as CTO helps and I'm very excited.
---
The industry needs more workers, and the current workforce must also get training to reskill themselves.
Click To Tweet
---
It only makes sense that you're in this role after all the work that you've done with WIA and TEC. I remember a few years ago, I sat in on one of your trainings with the Telecommunications Education Center on 5G and that's where we first got connected. I learned so much. I have to say that all the courses of TEC are simply incredible. More leaders should check those out. What is the website for TEC in case someone wants to go there?
The first one I would say is very simple WIA.org. That's our main website. There you can find different initiatives I just mentioned that is TEC Online, ITC and also TIRAP. If you want to just go to training wing of WIA, that is TEC-Online.org.
This is a fantastic resource for companies to train their employees and their team members. I do encourage everyone to check that out. Let's talk about a different role. I don't even know how you have time to sleep because you do so much, but you are part of the adjunct faculty of the University of Maryland. How did you get into that role? Tell me a little bit about what courses you teach at the Master's program and tell me about your students.
A few people know about this story. My students know this, but I'm happy to share. Let me start. It was the year 2008. I want the readers to go back to that time right when 700 megahertz frequencies were auctioned. Operators were looking at LTE and they're trying to roll out LTE at that time. Around that time and I was with CommScope. I was leading our field trials and customer training initiatives. We're building cell sites from 3G to 4G. I spent countless nights with our field crew, deploying our equipment, troubleshooting with them during maintenance windows. I realized that knowledge gained through these hands-on activities and from the field, it does wonder. There should be a way to teach some of it in the classroom.
I approach the University of Maryland and Dr. Delamo. He has been my mentor. He's teaching at Maryland for more than twenty years, ever since I was a student at Maryland. I brought this idea to him. I said, "You should bring components into the classroom. You should take students to the cell sites. We should do line sweeping using Anritsu. Let students know what goes into the field." They liked the idea. I was proposing, here are the equipment, here is some material I can provide. They said, "Do you want to teach? Why don't you prepare this course and teach?" I said, "I'm up for the challenge." I designed this course that was for the spring of 2009. Students attended. They loved it.
What I did is I partnered with industries. I was with CommScope. They donated a bunch of equipment. I worked with Anritsu. They gave a Site Master. I work with my connections with AT&T and graciously allowed our students to do a site visit with them. It was an instant hit. More importantly, all of the students got placed before they graduated. As soon as they put all these components into their resume, companies were like, "You did this while you were in school. We need this."
Later, I created another course on Wi-Fi and unlicensed spectrum. In the last few years, I created and have been teaching DAS and small cell on 5G course. Again, my approach has been the same. Let's see what employers are asking for because even though I've been teaching for several years now, I still call myself an industry person. I want to bring that into the classroom. For this DAS and small cell, a quick example, we did a partnership with IPwaves. It's the first and to my knowledge. It's the only university which received this generous donation from IPwaves. They donated their software for our labs. Students learned software and they come to level one or equivalent at the end of this course. Employers love this. Our students have always found great jobs sometimes more than one offer before they graduated. This is fantastic. More and more universities should adopt this in my view.
When students complete the program, they have a Master's in Telecommunications. Is that right?
Yes. This is a Professional Master's in Telecommunication Program. The best thing is that most of the faculties are like me, who are in the industry. They know what they're doing in the program. The leadership is very progressive and they let us design our courses. They will check, but that's how it works.
If companies want to hire the graduates, where do they go? Do they email you or they go to a particular place to find more information?
By all means, they can reach out to me directly. I'm very active on LinkedIn as you know. Just ping me on LinkedIn. The website for our program is very simple. It's Telecom.UMD.edu. There is a contact information there as well for our program directors as well.
Let's switch gears a bit. There was a working group with the FCC where you address the skills gap that exists in telecom. Can you talk a little bit about that? You just published a report that is also on job skills and training. A lot of great information here.
I want to provide a little more detail into this because this report was just published. To give a little bit background, Chairman Ajit Pai created BDAC, Broadband Deployment Advisory Committee, back in 2017. It was a fantastic idea. His vision was to gather experts from industry, academia, local government and figure out the barriers for broadband deployment. I had presented MMTC on BDAC. Jonathan Adelstein, our CEO and president was also a member representing WIA. Many of these recommendations were produced and MMTC took them very seriously.
In 2019, Chairman Pai created three more working groups. One of them was the Broadband Infrastructure Deployment Jobs Skills and Training Opportunity Working Group. He invited me to be the vice-chair of this group, Leticia Latino of Neptuno is the chair. She was terrific. We complemented each other on this very special project. We were given certain charges. This is where is I admire FCC Chairman Pai and Commissioner Carr. They have long known that 5G will create lots of new jobs.
Before that, we need a skilled workforce to build the 5G network. If we don't have that, if you don't plan for that, we will fall behind in the network deployment. A lot is riding on this network build-up. Our charges specifically included identifying the skills gap, what are the reasons behind those and also formulate the solutions for different stakeholders and also evaluate the existing training program, which have worked. Some of them did not work.
Figure out why that's happening and brought all these recommendations. The report is out. It's been unanimously approved by the BDAC members in October 2020. It was a joint effort by a group of 25 amazing individuals, who worked over the last several months to produce this report. We identified the challenges, put them in seven different categories. We invited a lot of SMEs to provide recommendations as well. I highly recommend you read it. This is our label on FCC's website. A simple way I would say is Google FCC BDAC and a nice landing page with all the working groups and their recommendations available there.
Can you talk a little bit about the challenges of deploying 5G, workforce shortages and skills gaps? Is this still just as bad as it was pre-COVID? Is it any better now? Are there more people that are available? Are we still having issues?
This requires a multifacet answer, but here's the thing, the COVID pandemic has impacted the workforce in a big way. Our industry has kept going. Reliance on our industry has increased multifold as we know. As a result of that, our operators, network builders, our companies haven't slowed down. Investment has continued. As a result of that, we need more and more people. More people are available in the market, but the challenge still lies. We need to train them. That is the main thing.
First, let me provide this perspective before we talk about the challenges. Prior to even forming this BDAC in 2019 and the pandemic, there was only one main study by Accenture. It was a great study, which suggested that there will be three million new jobs created because of 5G and about 25% of those will be direct jobs because of 5G. That's a massive number. Two more studies came out and one from Boston Consulting Group where they identify key success factors for building the 5G US economy.
One of the success factors is talent. They are highlighting that. Another one, which is a more direct study on 5G and job market that was commissioned by National Spectrum Consortium. It came out a couple of months ago and that has revised the number that look into the revolution fight is going to bring. That's saying that 4.6 million new jobs will be created between 2019 to 2024. That's massive. More importantly, already 106,000 direct jobs having created since our trial started on 5G in 2019.
---
=If 5G is not utilized immediately and put to good use, people will start falling behind in the network deployment.
Click To Tweet
---
That is a very impressive number. With that in mind, let's talk about the challenges. We have to look at two different things when we look at 5G. Right now, we're talking about 5G, the same thing applies for the future generation or any emerging technologies. The first one here is we need to understand how 5G networks work. The second is 5G use cases. If we understand how 5G networks work and what frequency bands go into that, we can evaluate the direct jobs because of 5G.
Once we understand the use cases and application of 5G, then we are talking about telemeter for some of the verticals such as agriculture or construction where all these new jobs will be created because 5G is going to that potential. All of this is what we are looking at right now, we are expecting upgrades to macro tower happening now, one million-plus small cells in the next several years. That's being addressed here right now. Fiber backhaul for all of them, most of them. Deployment has started already in CBRS, mid-band, low-band, millimeter wave and frequencies. With all of this, we cannot expect our existing workforce who has just worked on 4G LTE and at the macro tower to learn all this and learn this quickly and also scale this. We need more workers and we need more of our workforce to also get training so that they can reskill themselves.
We sure do. It's a big job ahead. What we're missing is people. I know that so many people in telecommunications have moved from company to company or possibly job to job, which is fine, but that's not solving our problem. The problem is we need more people to enter the industry. That leads me to my next question that is WIA received a very large grant for workforce development, which was very exciting. Congratulations, by the way. Tell me about that grant, what it's going to be used for, and the programs that have been developed from that.
This is a fantastic news and it's a start. We appreciate the Department of Labor recognizing our industry, not only for apprenticeships but in general. We have so many new jobs coming from our industry. So far DOL has recognized IT and apprenticeship has worked well for construction manufacturing, so forth. Our industry is brand new when we explore the apprenticeship waters. DOL has recognized that there are going to be tremendous skill needed and it's going to be required by all the verticals.
Earlier in February, March 2020, the Labor Department gave us a grant to expand apprenticeships. We are going to work with community colleges. Five of them have been identified. We are open for many more as well. This grant will allow us to work with community colleges and we have a very nice partner as well BCCA, who are representing their member companies from the utility side of it. As you can see here, while we are working together on this because now our cell sites are coming in different forms. It's going to be small cells. We are going to utilize utility poles infrastructure as well.
Part of the funding would require us to work with the community colleges, evaluate their existing curriculum, help them modify or create new content, which is more aligning with employers' need as well. That is the grant portion. A few months ago, DOL awarded this contract to WIA. I want to specify the word contract because we are going to be working on behalf of DOL to expand apprenticeship programs for many member companies and not just member companies, but any employers who are willing to participate and who understand that apprenticeship is the right way to address their job demands and some of the challenges that they want to overcome.
The main thing here is that we also identified this in our BDAC report as well. The fundamental problem we have, which we are trying to tackle is there is a lack of standardized training in our industry. There's a lack of career parts as well. Through this grant and contract, we will be creating new occupations. We will be working with the employers and identify what jobs do you need? If they don't exist, we are going to work with DOL and clear those jobs. While doing that process, we identify what on the job training elements needs to be identified for each of those occupations and what classroom training portion needs to be connected with the community colleges as well. It's a very exciting project. This is just a start. This is multi-year projects from both grant and contract point of view. More can be done as well. We are excited to get going.
Any company can participate? Let's say that a leader is reading this who's having a workforce challenge and they need to hire people, can they reach out to you and get more information about this apprenticeship program and get involved so they can boost their workforce and train?
Let me explain a little bit about the TIRAP. It is our industry's only registered apprenticeship program. I want to emphasize the word registered. We have done that work already. The employers do not have to worry about this. WIA is the national sponsor of TIRAP. There are many benefits to employers who would like to join. There are no barriers. We make everything very simple and one key benefit is that you don't have to create your own program. We have done that work for you.
All you have to do is we need to understand your workforce need. If you want us to create some of the new occupations, we can do that. If you want to use any of our existing occupations under TIRAP right now, we have nine occupations already identified, registered and many of the companies are already taking advantage of that. We have 33 participating employers in this program. That number is expanding. We have already filed two more occupations with DOL and the approval is days away. We are already in the process of designing two more occupations related to small cells, one for in-building wireless solution that will be DAS and small cell one for the outdoor small cell.
Once those occupations are ready, we can start rolling. We will provide you all the technical assistance you will need. All you have to do is contact me, contact us, our director of apprenticeships, Deb Bennett. She's amazing. She has worked with all these employers since the beginning. Brent Whale, I would mention he just joined up WIA as the VP of Workforce Development and Training Program. He'll be looking into both sides of this workforce on. I'll be helping both of them. You can reach out to any one of us or ping me on LinkedIn. Our A-plus team is ready.
We keep saying WIA, but I want to emphasize for the readers, it's Wireless Infrastructure Association. Rikin, you are doing so much to solve this workforce issue that we're having in the telecom space in 5G. It's exciting to hear that there's action. There's a plan. There are solutions. It's coming. I feel so hopeful.
The work has started. It's not just in 2020. It's not just because of the funding. What I admire about WIA and our leaders, Jonathan and Tim, they have been advocating for better solutions for the 5G workforce for many years. We have these two initiatives, TIRAP and TEC going on. Companies are participating as well. I want to mention this, it's not just all these people I mentioned but many companies. You have both of these companies featured in your show. I'd like to give kudos to both of them, NB+C and Vertical Bridge, both Thomas Kane of NB+C and Alex Gellman and Bernard Borghei from Vertical, they have recognized this need.
What amazing values these training initiatives can bring to their bottom line. They have partnered with TEC, that's our training wing. They are investing in re-skilling of their employers and future emerging technologies as well. I want to say, we are heavily invested in this. We are constantly upgrading our courses. We are introducing new courses. Many of you might've noticed we just launched CBRS, CPI course. We partnered with Federated Wireless on that. We launched edge computing earlier in 2020. It's worth checking out many of these initiatives and happy to partner. This problem will not be solved by 1 or 2 90 days. We all have to work together and that's how we are going to achieve and overcome all of those challenges.
We are all in this together, Rikin. I want to thank you so much for being on this show. It is been packed full of content, action items and solutions. I appreciate the fact that you're in this role. I feel like that we're all going to be in a better place because of what WIA is doing right now and for our future. Please give us the website of WIA one more time.
It's WIA.org. It's the Wireless Infrastructure Association. Carrie, I appreciate it. It's been a pleasure. I appreciate this initiative of yours. This is one of my favorite blogs. You're doing a lot to help our industry as well.
Thank you. It's been a pleasure. You take care.
Thank you.
Important Links:
Love the show? Subscribe, rate, review, and share!
Join the 5G Talent Talk Community today:
About Rikin Thakker, Ph.D.
Chief Technology Officer, Wireless
Infrastructure AssociationDr. Rikin Thakker is the Chief Technology Officer (CTO) for the Wireless Infrastructure Association (WIA). He leads the activities related to emerging technologies and advises WIA members on 5G strategies including densification, spectrum allocation, and broadband deployment. He analyzes impacts of future use-cases of 5G and provide recommendations on broadband infrastructure deployment strategies. He helps WIA member companies and their CTO offices identify future technology trends and shape their product, services, and real estate portfolio to make them ready for 5G and beyond.
Dr. Thakker possesses nearly 20 years of experience in the field of cellular and wireless communications. He has helped design, deploy, and maintain cell sites with 3G and 4G technologies for major cellular operators in the United States. Prior to joining WIA, Dr. Thakker worked as the VP of Telecom and Spectrum Policy at the Multicultural Media, Telecom and Internet Council (MMTC).
FCC Chairman Ajit Pai appointed Dr. Thakker as the Co-chair of the "Broadband Infrastructure Deployment Job Skills and Training Opportunity" working group of the Broadband Deployment Advisory Committee (BDAC). Dr. Thakker helped the working group create recommendations on how the industry and government could implement effective steps to address the growing demand of skilled workforce for 5G and Broadband deployment. Dr. Thakker teaches for the interdisciplinary Master's Program in Telecommunication at the ECE department at the University of Maryland. He has created and have been teaching (since 2009) numerous graduate level courses, such as "Next Generation's Cellular Systems Infrastructure", "5G Technologies and Deployment", Microwave Backhaul Systems Design and Planning", "DAS, Small Cells, and 5G Systems", "Wireless LAN: 802.11 Fundamentals". Dr. Thakker received Best Instructor of the Year Award in 2018 and 2014.
Dr. Thakker earned his Ph.D. in Systems Engineering with a concentration in Mobile Communications and Spectrum Management from George Washington University, his M.S. in Telecommunications from UMD, and his B.E. in Electronics and Communications from the Gujarat University.
The post Understanding And Solving The 5G Skills Gap With Dr. Rikin Thakker appeared first on RCR Wireless News.