Key Wi-Fi Vantage features include Passpoint, Wi-Fi Agile Multiband and Wi-Fi Optimized Connectivity
Wi-Fi Alliance is upgrading its Wi-Fi CERTIFIED Vantage certification program to include advanced features for Wi-Fi 6 devices. Vantage is designed to make it easy to identify and select devices that provide an "elevated" Wi-Fi experience in managed networks, and now with the ability to support Wi-Fi 6 and WPA3 security, it delivers improved device performance and protections in open networks with Wi-Fi Enhanced Open.
"Wi-Fi Vantage delivers on four key pillars of a positive Wi-Fi experience in dynamic environments — manageability, mobility, performance and security," said Kevin Robinson, senior vice president of marketing for the Wi-Fi Alliance. "Key mechanisms in Wi-Fi Vantage make Wi-Fi increasingly suited for scenarios requiring greater mobility and aid in a higher-quality experience, which today often includes frequent transitions between Wi-Fi and cellular networks."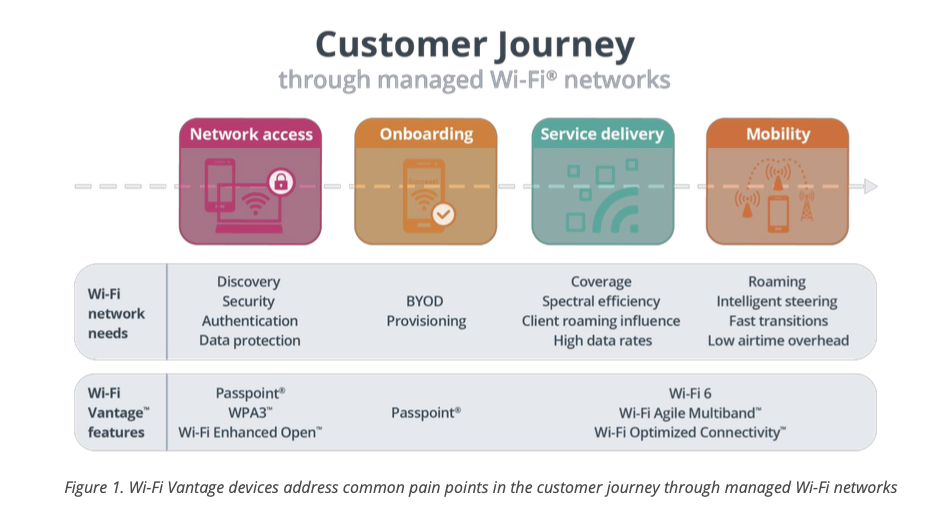 Wi-Fi Alliance says that Wi-Fi Vantage will support service providers, IT managers and network operators as they aim to provide a more consistent customer experience in densely populated Wi-Fi networks, such as university and corporate campuses, stadiums and transportation hubs.
It will also go a long way in helping deliver next-generation use cases that require lower latency and greater mobility both in the home and in business settings. Mobility is aided by key technologies, such as Passpoint, Wi-Fi Agile Multiband and Wi-Fi Optimized Connectivity, which streamline integration of Wi-Fi and cellular networks, aiding in the coexistence of both technologies and facilitating roaming between access points or Wi-Fi networks, or transitioning from Wi-Fi to cellular networks.
To validate the benefits of Wi-Fi Vantage, KDDI, Ruckus, Sharp, and Qualcomm conducted a trial at Tokyo's Shibuya subway station. The results indicated a 30% increase in network capacity and 10 times faster connection setup time. The trial was able to achieve improve network efficiency in the congested environment by reducing overhead, avoiding unstable connections due to weak link quality and shortening connection times to public wireless networks.
The post Wi-Fi Vantage adds Wi-Fi 6 support for 'elevated' user experience appeared first on RCR Wireless News.