The rapid growth of devices on Wi-Fi networks and increased consumer demand for always-on connectivity has required service providers to rethink their approach to delivering a great Wi-Fi user experience. Wi-Fi Alliance® created Wi-Fi CERTIFIED Vantage

to help managed network operators and IT managers meet these needs and help guarantee Wi-Fi networks deliver the best possible user experience.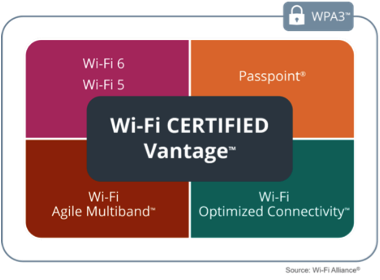 Wi-Fi Vantage

combines the benefits of several Wi-Fi CERTIFIED

programs to provide fast, secure access to Wi-Fi networks while maintaining quality connections as users move throughout and between networks. For Wi-Fi network administrators, Wi-Fi Vantage provides a mechanism to help manage Wi-Fi networks, influence client steering decisions, ensure higher throughput, and allow more devices to operate on the same network without sacrificing performance. For users, Wi-Fi Vantage delivers seamless and secure connections for a continuous experience in managed Wi-Fi networks due to faster network discovery and authentication and more streamlined roaming.
Wi-Fi Vantage core programs include:
Wi-Fi 6 and Wi-Fi 5
Passpoint®
Wi-Fi Agile Multiband
Wi-Fi Optimized Connectivity
WPA3
Wi-Fi Vantage improves four key pillars of Wi-Fi networks: manageability, mobility, performance, and security.
Manageability
The features in Wi-Fi Agile Multiband

and Wi-Fi Optimized Connectivity

provide tools that enable a better understanding of the Wi-Fi network environment to allocate resources appropriately, reduce airtime overhead, and influence client roaming behavior. Passpoint® adds the ability to provision devices with and without subscriber identification module (SIM) cards.
Mobility
Steering and transition mechanisms in Wi-Fi Agile Multiband and Wi-Fi Optimized Connectivity provide users with a more seamless mobility experience when accessing Wi-Fi networks, as well as when roaming within or across Wi-Fi networks, or transitioning from Wi-Fi to a cellular network without losing connection.
Performance
Currently available for both Wi-Fi 5 and Wi-Fi 6 devices, Wi-Fi Vantage brings higher data rates, orthogonal frequency division multiple access (OFDMA), target wake time (TWT), and 160 MHz channels to deliver better performance in dense environments. Combined with enhanced manageability and mobility capabilities, Wi-Fi Vantage devices improve overall performance in Wi-Fi Vantage networks.
Security
In addition to the secure authentication in Passpoint, WPA3

adds new features to simplify Wi-Fi security, enable more robust authentication, deliver increased cryptographic strength for highly sensitive data applications, and maintain resiliency of mission critical networks. All WPA3 networks use the latest security methods, disallow use of outdated legacy protocols, and require use of Protected Management Frames (PMF). Passpoint adds secure onboarding and connection to Wi-Fi networks.
Wi-Fi Vantage in action
The primary goal of Wi-Fi Vantage is to make it easy for users and operators of Wi-Fi networks to identify devices that provide a more reliable and elevated user experience, even in densely populated environments where multiple client devices are trying to access the network at the same time, such as stadiums, campuses, offices, retail locations, and residential networks. A prime example of this environment is a crowded train station during the daily morning commute.
When arriving at their destination, users' devices attempt to transition from a pre-existing Wi-Fi network connection or cellular network used during the ride, to the train station's public Wi-Fi network. As commuters approach their places of work, their devices also need to seamlessly connect to the enterprise network. In networks that do not support Wi-Fi Vantage, the user may experience connectivity disruptions, poor link quality assessment that results in low data rates with poor performance, long connection setup times, and considerable airtime congestion.
In a Wi-Fi network with certified Wi-Fi Vantage devices:
The number and impact of network discovery messages is reduced, which minimizes disruption to all current network users
Client attachment requests that are out of the coverage range of the network are rejected to preserve airtime for clients within the coverage area
Connection setup time is reduced, and management frames are sent at a higher minimum modulation and coding scheme (MCS) rate to significantly reduce airtime, allowing more clients to use the network
A CableLabs field trial tested Wi-Fi CERTIFIED Vantage devices against non-certified devices in a congested city area located near a university campus and a subway entrance. Using Wi-Fi Vantage features for enhanced network discovery and advanced roaming results showed notably improved performance, decreasing setup times by 76 percent, and reducing management frame and beacon congestion an average of 70 percent compared to Wi-Fi devices not certified for Wi-Fi Vantage. The service provider was able to efficiently manage network resources, accommodate more devices, and deliver higher customer satisfaction. Meanwhile, the end user enjoyed faster connections, more consistent voice and video calls, and the latest WPA3 security.
Wi-Fi Vantage delivers next generation use cases
As the number of Wi-Fi devices in use continues to grow, cellular providers will increasingly rely on Wi-Fi to offload traffic to ensure the best user experience. The surge in Wi-Fi use has also led to more overlapping networks, where dense deployments require quick transitions. And as the deployment of Wi-Fi 6 becomes more widespread, users will expect to see more high-resolution content. Wi-Fi Vantage provides a better roaming experience, greater network manageability, lower latency, and faster transitions: all solutions to issues that network providers are currently facing.
Wi-Fi Vantage networks provide a greater quality of service, but the possibilities do not end there. Wi-Fi Vantage promises to deliver on next generation use cases at home and in the enterprise, supporting those use cases that require greater mobility and lower latency.
Wi-Fi Vantage is continually evolving to support the most advanced Wi-Fi CERTIFIED technologies, giving users and network providers an elevated Wi-Fi managed network experience.
The post Wi-Fi Vantage™ enhances the user experience in managed networks appeared first on RCR Wireless News.