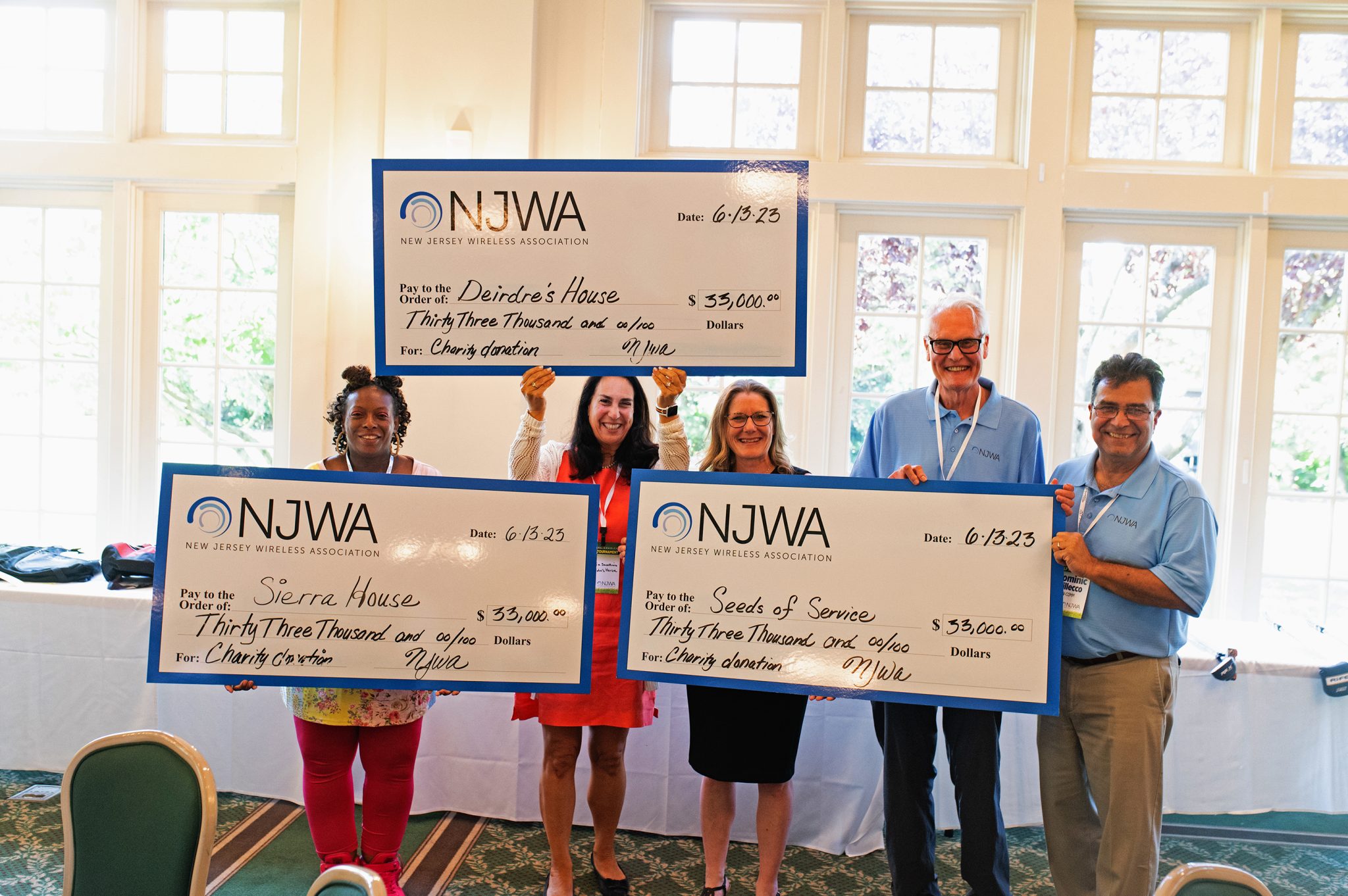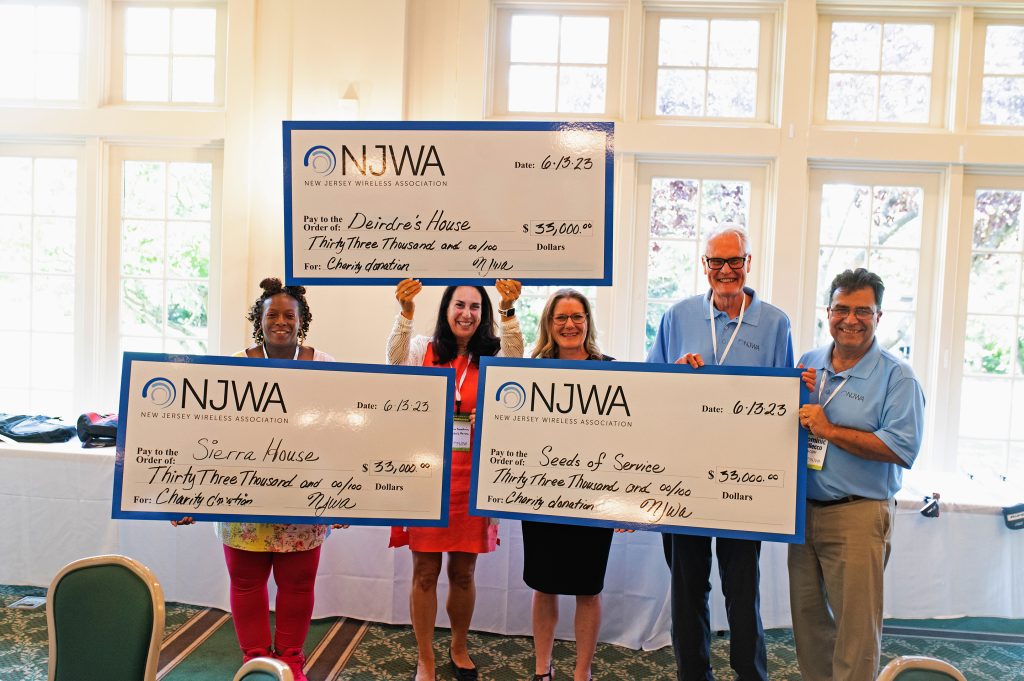 The New Jersey Wireless Association (NJWA) presented checks totaling $100,000 to four New Jersey charitable organizations at its 17th Annual Charity Golf Outing held at Forsgate Country Club on June 13, 2023. The NJWA donated the funds to Sierra House, Deirdre's House, Seeds of Service, and a memorial contribution to the Meghan Rose Bradley Foundation in honor of NJWA board member Steve Weiss, who recently passed away. Since 2007, the NJWA has donated a total of $543,000 to charities based in New Jersey.
"NJWA believes strongly in the importance of giving back. As an advocacy organization, philanthropy is part of our mission, and we are pleased to be able to support these charities that act as safety nets in the communities we serve," said Dominic Villecco, NJWA President. "The charities we select are making a real difference in people's lives, and we know with our help, they can do even more over the next year."
Among the recipients of a $33,000 NJWA donation this year is Sierra House in East Orange, NJ. The mission of Sierra House is to improve the prospects of individual achievement for the homeless, youth with developmental disabilities, and low- to moderate-income individuals and families through housing, education, life skills, and community services, thereby contributing to the long-term stability of our community. www.sierrahouse.org.
Also receiving a $33,000 NJWA donation is Deirdre's House in Morristown, NJ. Since 1996, it has opened its door more than 32,000 times to child victims of abuse and/or neglect and children who have witnessed violence. www.deirdreshouse.org.
The NJWA also donated $33,000 to Seeds of Service in Brick, NJ. Project S.O.S. Seeds of Service, Inc. ("SOS") was established as an outgrowth of The Ministry, Visitation Relief Center of Visitation Roman Catholic Church. The grassroots efforts of The Ministry, Visitation Relief Center began shortly after Hurricane Sandy in November 2012. The Ministry's mission is to focus on improving the process of receiving assistance and increasing access to resources in times of adversity or need. www.seedsofservice.help.
In honor of NJWA board member Steve Weiss, who recently passed away, the NJWA also made a $1,000 contribution to the Meghan Rose Bradley Foundation during the Golf Outing. Steve's late wife, Connie Lakas Weiss, was a board member of the Foundation, which is dedicated to raising public awareness on pediatric brain cancer. www.meghanrosebradleyfoundation.org.
The NJWA is a non-profit professional organization dedicated to making the public and our elected officials aware of the positive economic and social benefits of the wireless industry. The association's membership is comprised of wireless carriers, equipment manufacturers, infrastructure/engineering and planning professionals, environmental consultants, legal/land use firms, site acquisition professionals, contractors, tower climbers, construction companies, construction managers, and mobile app developers.
The NJWA was launched in 2005 in partnership with the Wireless Infrastructure Association's State Wireless Association Program. The NJWA's mission is to be a reliable and ethical leader providing a forum for the wireless industry. The NJWA is a resource for professionals to discuss issues of interest throughout the wireless industry, to become educated on matters critical to the advancement of wireless and telecommunications in New Jersey, and to provide leadership in resolving state and local issues and concerns. The NJWA supports public safety by advocating for wireless 911 system upgrade efforts and ensuring the 911 fees are 100-percent dedicated to 911 systems and operations.
For more information about the New Jersey Wireless Association, visit newjerseywireless.org.